What else does a customer require when it comes to a "quality pulverizer with prompt product support provided by the original equipment manufacturer"? This seems absolutely right when it comes to considering having any pulverizer, whether it is stone flour mill machinery or a stone-less pulverizer machine from Confider Industries. This is because of following differentiators,
1) Customer-First Approach: Confider Industries' customer centricity consistently attracts customers from all over the world. This is purely due to their dependability in the overall product experience. We focus on basic functions and ease of use while avoiding unnecessary functions when designing the machine. Because of this, we can keep the pulverizer machine price as low as possible. We are always appreciated in the competitive market for that differentiator.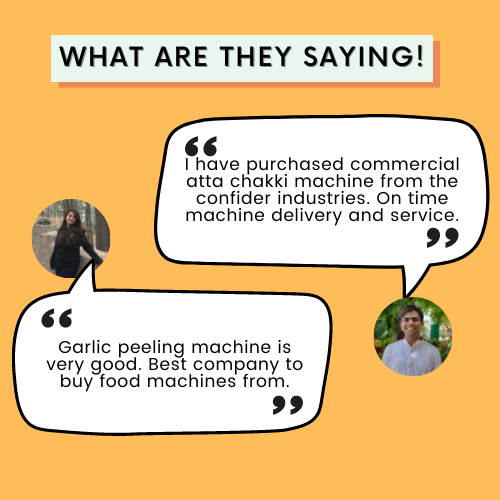 2) A One Stop Solution: Confider has a comprehensive selection of various food equipment, especially pulverizers, as a result of decades of dedication. This includes pulverizers for grains, pulses, spices, rice, sugar, salt, coffee, herbs, leaves, and even stones. Even in pulverizers, we offer all possible customizations to ensure that our customers make the best decision possible.
3) Hidden Customer Delight: On-call booking, cash-on-delivery payment, and on-time product support impart huge trust in the customer base across the globe. They can book the machine and have it delivered in a few days by paying at the time of delivery. This lends a helping hand to our customers. Multiple ways of transport and types of packaging options help customers choose what's best for them. This helps customers keep the complete delivery process and options in their hands.
4) Ready to Customize Attitude: We are paying full attention to each and every request to make customers happy. This also makes us a unique player in the food processing machine market. Confider caters to all customers in terms of customization, from those looking to start their own business to those looking to expand into the global market. Technically, we manufacture the pulverizer parts, which have different materials, sizes, shapes, and even functionality.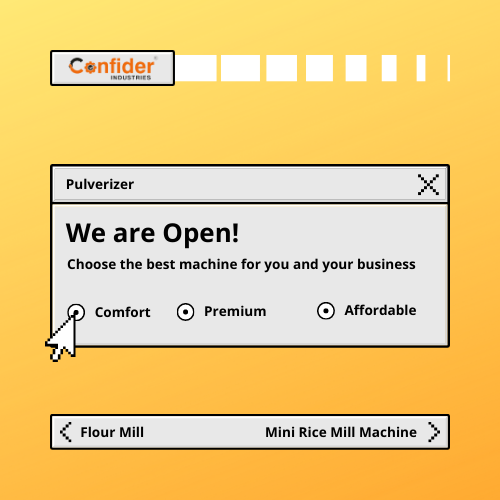 5) Strive for Low Cost Machine Offering: Continuous improvement in process to product leads confider floating any new machine in the market in full swing. Improvement starts with reviews from existing customers and feedback after the sale of any machine. This allows the confider to understand the specific needs of the customers, and internal brainstorming helps determine the best low-cost solution to offer our customers in response.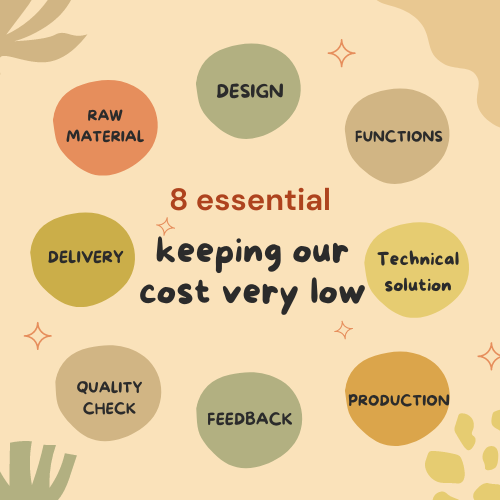 Also, we timely upload demo videos of pulverizers on our YouTube channel, Confider Industries. Subscribe and get updated with new pulverizers on the market.