Choose Your Machine
15 KG Commercial Atta Kneader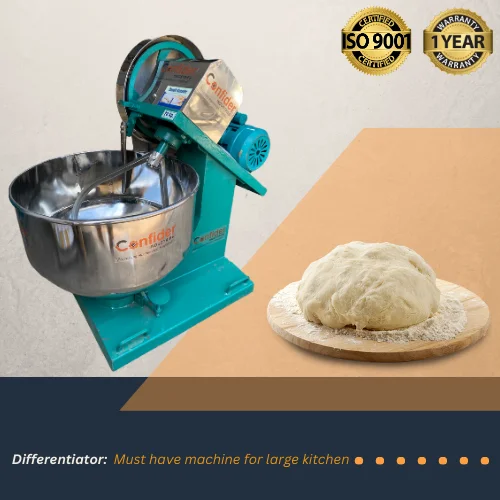 Product Details
Product Name :- 15 KG Commercial Atta Kneader
Model No :- FM15
Machine Type :- Atta Kneading Machine
Machine Size :- 43″ X 37″ X 21″
M/C Capacity :- 12 – 15 Kg/Cycle
Motor Type :- 1 HP/ Single Phase/ 220 V
Unit Per Hour :- 0.75
Usage :- Commercial
Min Quantity :- 1PCs
Condition :- New
Automation :- Automatic
Brand :- Confider
There has been a tremendous uptick in the use of process fastening throughout all of engineering since the advent of automation.
The food industry is one of the first to embrace cutting-edge technology and methods in order to better serve its customers. This commercial purpose heavy atta kneader is the answer to the growing need for atta kneading at restaurants, hotels, and other large institutions.
As a market leader, we produce top-quality kneaders for commercial kitchens of all sizes. Our machinery has a quicker production cycle and a higher stockpile size. Additionally, we supply bowls that are portable in fittings to further enhance the user-friendliness of this equipment. We also maintained the machine's motor's 100% copper winding for maximum efficiency and durability. Customers who don't have any technological expertise can use this machine because to its plug-and-play design.
20 KG Commercial Atta Kneader
Product Details
Product Name :- 20 KG Commercial Atta Kneader
Model No :- FM20
Machine Type :- Commercial Atta Kneader
Machine Size :- 46″ X 41″ X 26″
M/C Capacity :- 15 – 20 Kg/Cycle
Motor Type :- 1.5 HP/ Single Phase/ 220 V
Unit Per Hour :- 1.125
Usage :- Commercial
Min Quantity :- 1PCs
Condition :- New
Automation :- Automatic
Brand :- Confider
25 KG Commercial Atta Kneader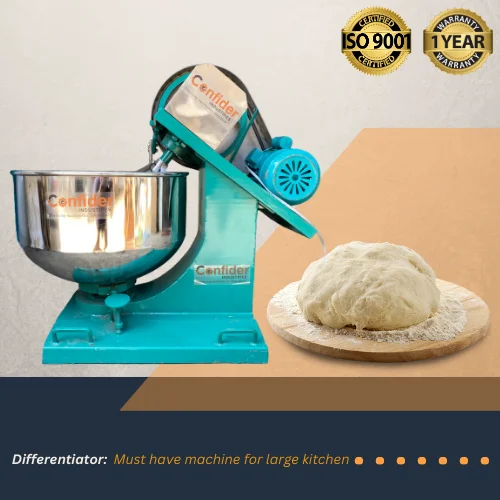 Product Details
Product Name :- 25 KG Commercial Atta Kneader
Model No :- FM25
Machine Type :- Commercial Atta Kneading Machine
Machine Size :- 48″ X 42″ X 28″
M/C Capacity :- 18 – 22 Kg/ Cycle
Motor Type :- 1.5 HP/ Single Phase/ 220 V
Unit Per Hour :- 1.125
Usage :- Commercial
Min Quantity :- 1PCs
Condition :- New
Automation :- Automatic
Brand :- Confider
30 KG Commercial Atta Kneader
Product Details
Product Name :- 30 KG Commercial Atta Kneader
Model No :- FM30
Machine Type :- Industrial Atta Kneader
Machine Size :- 48″ X 42″ X 28″
M/C Capacity :- 18 – 22 Kg/Cycle
Motor Type :- 1.5 HP/ Single Phase/ 220 V
Unit Per Hour :- 1.125
Usage :- Commercial
Min Quantity :- 1PCs
Condition :- New
Automation :- Automatic
Brand :- Confider
40 KG Commercial Atta Kneader
Product Details
Product Name :- 40 KG Commercial Atta Kneader
Model No :- FM40
Machine Type :- Industrial Atta Kneading Machine
Machine Size :- 48″ X 42″ X 28″
M/C Capacity :- 18 – 22 Kg/Cycle
Motor Type :- 2 HP/ Single Phase/ 220 V
Unit Per Hour :- 1.5
Usage :- Commercial
Min Quantity :- 1PCs
Condition :- New
Automation :- Automatic
Brand :- Confider
50 KG Commercial Atta Kneader
Product Details
Product Name :- 50 KG Commercial Atta Kneader
Model No :- FM50
Machine Type :- Heavy Atta Kneader
Machine Size :- 51″ X 45″ X 27″
M/C Capacity :- 30 – 35 Kg/Cycle
Motor Type :- 2 HP/ Single Phase/ 220 V
Unit Per Hour :- 1.5
Usage :- Commercial
Min Quantity :- 1PCs
Condition :- New
Automation :- Automatic
Brand :- Confider