Choose Your Machine
5 HP Peanut Butter Machine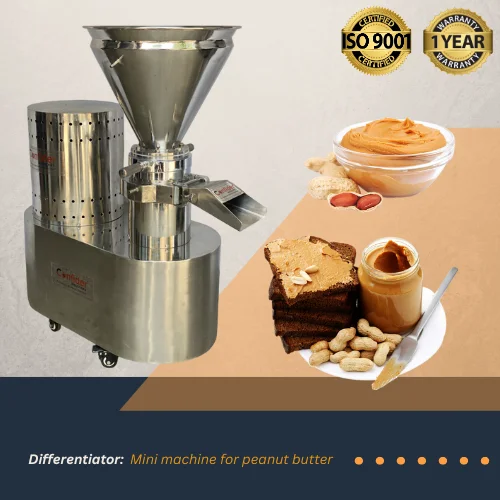 Product Details
Product Name :- 5HP Peanut Butter Machine
Model No :- PBM5
Machine Type :- Peanut Butter Making Machine
Machine Size :- 29″ X 15″ X 41″
M/C Capacity :- 145 – 1400 Ltr/hr
Motor Type :- 5 HP/ Three Phase/ 220 V
Unit Per Hour :- 3.750
Accuracy :- 10 – 50 Micron
Usage :- Commercial
Min Quantity :- 1PCs
Automation :- Automatic
Brand :- Confider
Thanks to many benefits of peanut butter that makes it nutritious food choice. Confider's peanut butter machine revolutionizes the process of making peanut butter. First of all, this machine makes it possible to make homemade peanut butter.
It efficiently and accurately grinds peanuts into smooth and creamy butter-like consistency. Equipped with a powerful motor and durable stainless-steel blades, it effortlessly processes the peanuts, transforming them into a delicious spread in a matter of minutes.
All together makes this machine favourite among peanut butter enthusiasts, health-conscious individuals, and commercial establishments. We can set desired fineness for getting perfect texture. This way, small to commercial peanut butter machine serves all types of customers for their healthy and fresh peanut butter offering for themselves or to the market.