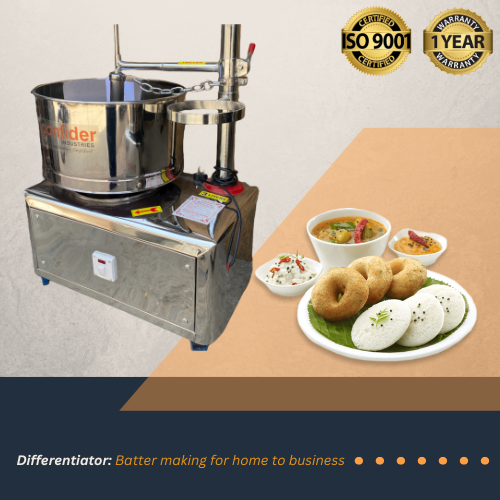 Welcome To The Confider Industries !
Manufacturer of Wet Grinder – Steady
No matter the size of your organization, from startup to established, our reliable wet grinders will meet your needs. In our production of wet grinders, we employ the use of standard stainless steel. We have wet grinders ranging from 2 litres to 20 litres in capacity.
A good quality stone is being used in this device to make superior quality batter for idli and dosa. This device can be ordered immediately and purchased straight from the manufacturer. The machine's motor is covered by a one-year warranty.

Confider Industries
Technical Details of Wet Grinder – Steady
WET GRINDER – STEADY
MOTOR
(HP)
PHASE
WEIGHT
(KG)
MACHINE SIZE
(INCH)
GEAR BOX
STOCK SIZE
(LITRE)
2 LTR
0.25
SINGLE
45
22″ X 26″ X 15″
NO
2
3 LTR
0.25
SINGLE
65
23″ X 32″ X 16″
NO
3
5 LTR
0.5
SINGLE
110
30″ X 36″ X 19″
YES
5
7 LTR
1.0
SINGLE
140
32″ X 37″ X 21″
YES
7
10 LTR
1.0
SINGLE
170
33″ X 40″ X 23″
YES
10
15 LTR
1.5
SINGLE
210
36″ X 43″ X 25″
YES
15
20 LTR
2.0
SINGLE
245
39″ X 46″ X 28″
YES
20