Choose Your Machine
2 HP Haldi Grinding Machine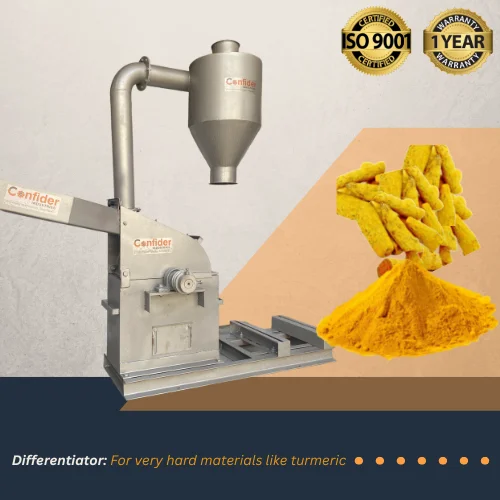 Product Details
Product Name :- 2 HP Haldi Grinding Machine
Model No :- HGM2
Machine Type :- Turmeric Grinder Machine For Home
Machine RPM :- 3840
M/C Capacity :- 10 Kg/hr
Motor Type :- 2 HP/ Single Phase/ 220 V
Unit Per Hour :- 1.5
Usage :- Home or Business
Min Quantity :- 1PCs
Condition :- New
Automation :- Automatic
Brand :- Confider
Haldi (Turmeric) is used all throughout the world, from culinary applications to medical ones, thanks to its many health benefits.
Since its founding, Confider Industries has provided a comprehensive variety of machines for the processing of spices for customers all over the world.
For the purpose of reducing turmeric to powder, our haldi powder machine in particular is equipped with high-quality pulverizers that feature intermittent hammers and strips. This machine stands out from the crowd thanks to its sturdy construction, effective cyclone-based grinding, and standard motor with copper windings.
This pulverizer has a capacity range of 20 kg to 300 kg per hour, and can grind material to any commonly observed fineness while doing so with minimal noise. The motor can be purchased locally, and the combination of stainless and mild steel in the manufacturing is available in a variety of configurations to meet the needs of the customer.
3 HP Haldi Grinding Machine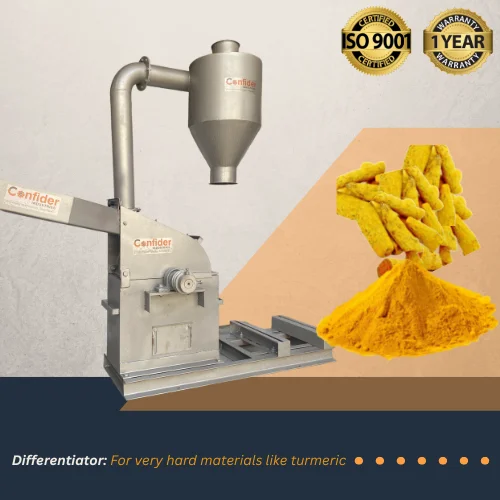 Product Details
Product Name :- 3 HP Haldi Grinding Machine
Model No :- HGM3
Machine Type :- Turmeric Powder Machine
Machine RPM :- 3840
M/C Capacity :- 15 Kg/hr
Motor Type :- 3 HP/ Single Phase/ 220 V
Unit Per Hour :- 2.250
Usage :- Commercial
Min Quantity :- 1PCs
Condition :- New
Automation :- Automatic
Brand :- Confider
5 HP Haldi Grinding Machine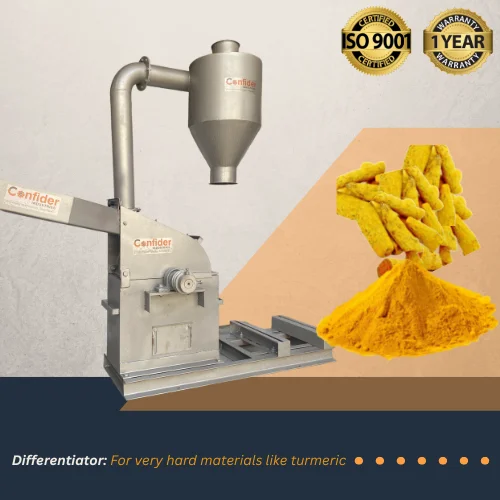 Product Details
Product Name :- 5 HP Haldi Grinding Machine
Model No :- HGM5
Machine Type :- Turmeric Powder Making Machine
Machine RPM :- 3840
M/C Capacity :- 25 Kg/hr
Motor Type :- 5 HP/Three Phase/ 220 V
Unit Per Hour :- 3.750
Usage :- Commercial
Min Quantity :- 1PCs
Condition :- New
Automation :- Automatic
Brand :- Confider
7.5 HP Haldi Grinding Machine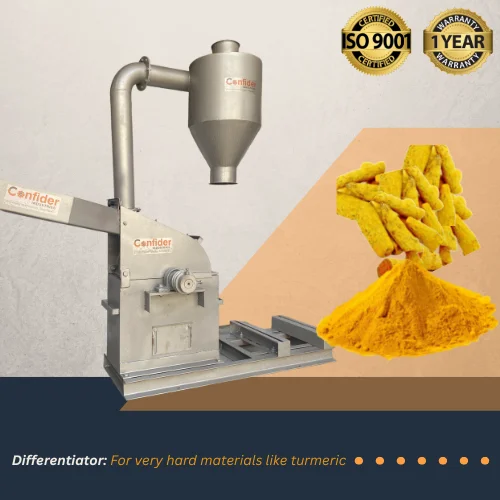 Product Details
Product Name :- 7.5 HP Haldi Grinding Machine
Model No :- HGM7P5
Machine Type :- Haldi Powder Machine
Machine RPM :- 3840
M/C Capacity :- 35 Kg/hr
Motor Type :- 7.5 HP/ Three Phase/ 220 V
Unit Per Hour :- 5.7
Usage :- Commercial
Min Quantity :- 1PCs
Condition :- New
Automation :- Automatic
Brand :- Confider
10 HP Haldi Grinding Machine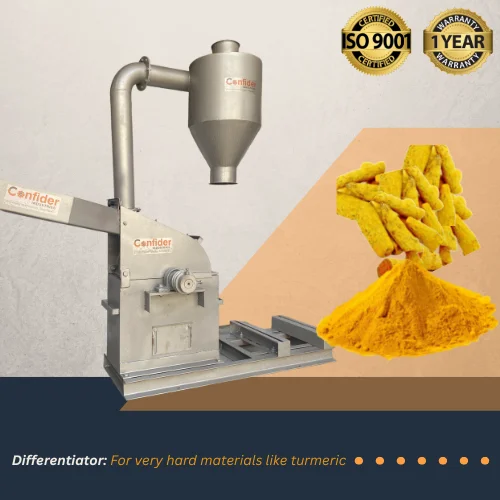 Product Details
Product Name :- 10 HP Haldi Grinding Machine
Model No :- HGM10
Machine Type :- Haldi Mirchi Pisne Ki Machine
Machine RPM :- 3840
M/C Capacity :- 50 Kg/hr
Motor Type :- 10 HP/ Three Phase/ 220 V
Unit Per Hour :- 7.5
Usage :- Commercial
Min Quantity :- 1PCs
Condition :- New
Automation :- Automatic
Brand :- Confider
15 HP Haldi Grinding Machine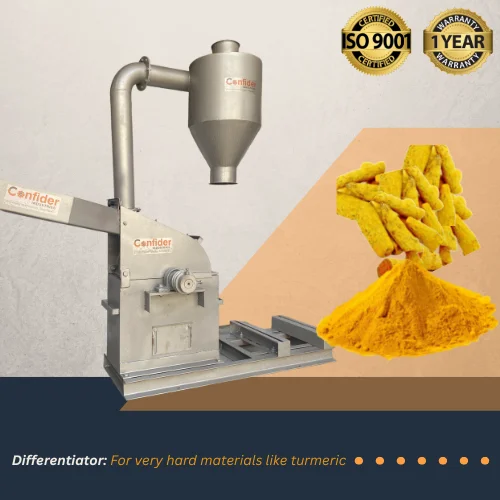 Product Details
Product Name :- 15 HP Haldi Grinding Machine
Model No :- HGM15
Machine Type :- Turmeric Pulverizer Machine
Machine RPM :- 3840
M/C Capacity :- 75 Kg/hr
Motor Type :- 15 HP/ Three Phase/ 220 V
Unit Per Hour :- 11.25
Usage :- Commercial
Min Quantity :- 1PCs
Condition :- New
Automation :- Automatic
Brand :- Confider
20 HP Haldi Grinding Machine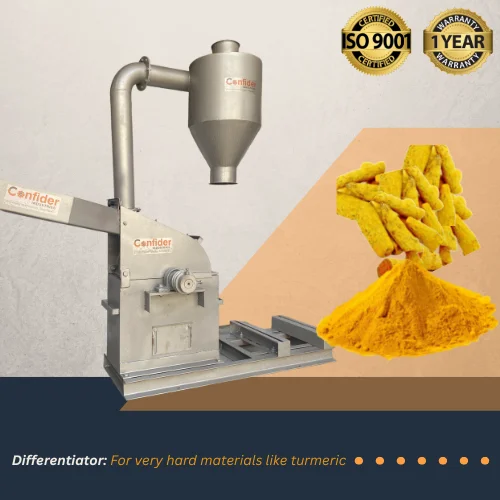 Product Details
Product Name :- 20 HP Haldi Grinding Machine
Model No :- HGM20
Machine Type :- Pulverizer For Turmeric
Machine RPM :- 3840
M/C Capacity :- 100 Kg/hr
Motor Type :- 20 HP/ Three Phase/ 220 V
Unit Per Hour :- 15
Usage :- Commercial
Min Quantity :- 1PCs
Condition :- New
Automation :- Automatic
Brand :- Confider