Choose Your Machine
Mini Rice Mill Machine
Product Details
Product Name :- Mini Rice Mill Machine
Model No :- RMS
Machine Type :- 3 HP Rice Mill Machine
Machine Size :- 29″ X 30″ X 16″
M/C Capacity :- Milling (120 – 150 Kg/hr)
Motor Type :- 3 HP/ Single Phase/ 220 V
Unit Per Hour :- 2.250
Usage :- Home/ Business/ Commercial/ Industrial
Min Quantity :- 1PCs
Condition :- New
Automation :- Automatic
Brand :- Confider
Rice Mill Pulverizers are in high demand in rice-growing states across India. It's required by almost all people whether they are farmers, traders, or entrepreneurs with a home business in a related industry. This seems true beacause rice is one of the world's most traded commodities. Also in India, daily food supply is overly reliant on rice mill production.
Confider Industries designed this mini rice mill to satisfy this purpose. Our two-stage ricemill comes with
1) Dehusking – At this step, the husk has been removed from the paddy rice, and the finished product is available.
2) Grinding – In a separate chamber, the finished rice is ground into rice powder.
These tasks can be completed using a single-phase motor. The machine has a dehusking capacity of 140 kg per hour and a grinding capacity of 35 kg per hour.
Mini Rice Mill Pulverizer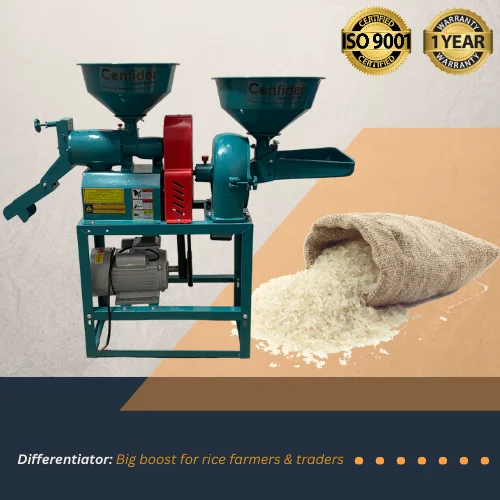 Product Details
Product Name :- Mini Rice Mill Pulverizer
Model No :- RMCR
Machine Type :- Rice Flour Mill
Machine Size :- 50″ X 44″ X 16″
M/C Capacity :- Milling (120 – 150 Kg/hr), Grinding (25 Kg/hr)
Motor Type :- 3 HP/ Single Phase/ 220 V
Unit Per Hour :- 2.250
Usage :- Business
Min Quantity :- 1PCs
Condition :- New
Automation :- Automatic
Brand :- Confider
Heavy Rice Mill Pulverizer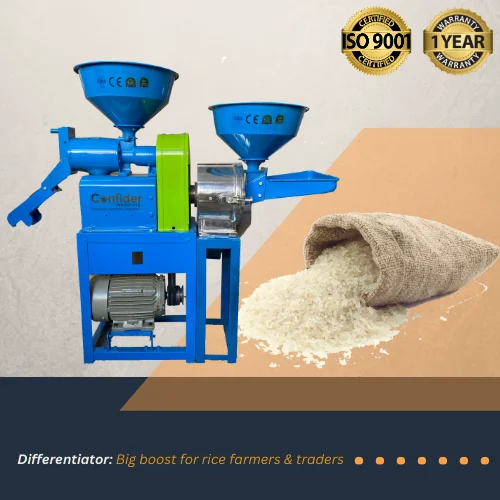 Product Details
Product Name :- Heavy Rice Mill Pulverizer
Model No :- RMCH
Machine Type :- Rice Powder Machine
Machine Size :- 52″ X 45″ X 18″
M/C Capacity :- Milling (120 – 150 Kg/hr), Grinding (30 Kg/hr)
Motor Type :- 3 HP/ Single Phase/ 220 V
Unit Per Hour :- 2.250
Usage :- Commercial
Min Quantity :- 1PCs
Condition :- New
Automation :- Automatic
Brand :- Confider