Choose Your Machine
1200 Watt Mini Oil Mill
Product Details
Product Name :- 1200 Watt Mini Oil Mill
Model No :- OE1200S
Machine Type :- Oil Mill Machine
Machine Size :- 24″ X 9″ X 24″
M/C Capacity :- 8 – 10 Kg/hr
Motor Type :- 1200 W/ Single Phase/ 220 V
Unit Per Hour :- 1.2
Usage :- Commercial
Min Quantity :- 1PCs
Condition :- New
Automation :- Automatic
Brand :- Confider
Are you aiming to start new or expand existing business and have heard that an oil extraction machine will help?
You may use this machine to manufacture 20 different types of oil, all of which are healthful and hygienic, including coconut oil, ground nut oil, mustard oil, sunflower oil, and so on. Feed rates of 8, 12, and 20 kg per hour are achievable with machines rated at 1200, 1500, and 2000 watts, respectively.
Our equipment is constructed from industry-standard stainless steel, making it suitable for both domestic and commercial settings. There is no need to engage an expensive professional because they have everything you need and are simple to put together. The machines can be ordered on call and delivered to your doorstep, cash on delivery option is also provided to genuine customers.
Simply give us a call and we'll take your order over the phone.
.
1500 Watt Mini Oil Mill
Product Details
Product Name :- 1500 Watt Mini Oil Mill
Model No :- OE1500S
Machine Type :- Mini Oil Mill Machine
Machine Size :- 23″ X 11″ X 18″
M/C Capacity :- 10 – 12 Kg/hr
Motor Type :- 1500 W/ Single Phase/ 220 V
Unit Per Hour :- 1.5
Usage :- Commercial
Min Quantity :- 1PCs
Condition :- New
Automation :- Automatic
Brand :- Confider
2000 Watt Mini Oil Mill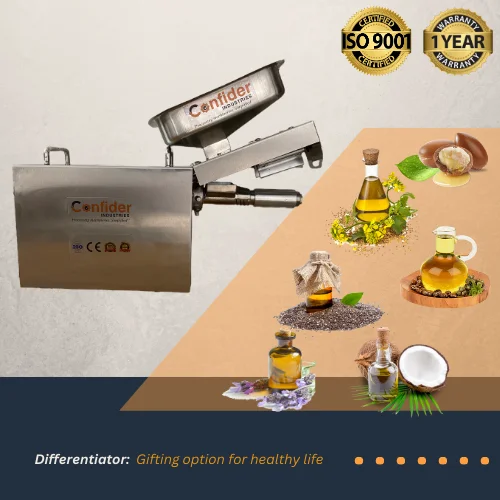 Product Details
Product Name :- 2000 Watt Mini Oil Mill
Model No :- OE2000S
Machine Type :- Mini Oil Mill
Machine Size :- 27″ X 11″ X 27″
M/C Capacity :- 20 Kg/hr
Motor Type :- 2000 W/ Single Phase/ 220 V
Unit Per Hour :- 2
Usage :- Commercial
Min Quantity :- 1PCs
Condition :- New
Automation :- Automatic
Brand :- Confider