Choose Your Machine
2 HP Hammer Mill Pulverizer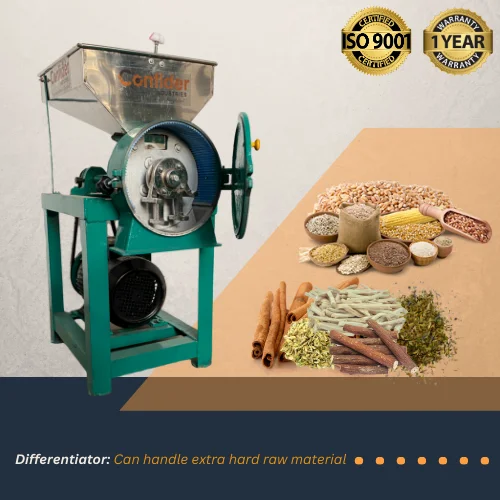 Product Details
Product Name :- 2HP Hammer Mill Pulverizer
Model No :- HM2
Machine Type :- Hammer Mill Machine
Machine Size :- 27″ X 33″ X 16″
M/C Capacity :- 15 – 20 Kg/hr
Motor Type :- 2 HP/ Single Phase/ 220 V
Unit Per Hour :- 1.5
Usage :- Commercial
Min Quantity :- 1PCs
Condition :- New
Automation :- Automatic
Brand :- Confider
Confider Industries' hammer pulverizer is also known as a wheat flouring machine or a wheat grinding machine.
Instead of a fixed beater, the hammer pulverizer comes with a set of hammer style hanging beaters. This setup is more shock resistant than a stationary beater. This machine is available with motor capacities ranging from 2 to 5 HP. Single phase power supplies are compatible with 3 HP and 2 HP pulverizer, which are ideal for small organizations. While a 5 HP pulverizer is suitable for a large atta factory, it requires three phase power.
We are only a phone call away. CALL US RIGHT NOW to give your startup a prestigious corporate name.
3 HP Hammer Mill Pulverizer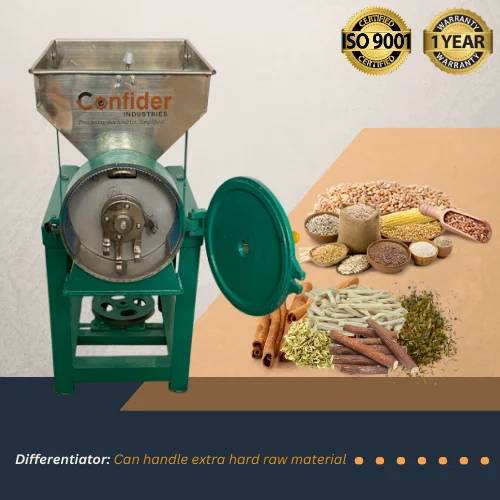 Product Details
Product Name :- 3HP Hammer Mill Pulverizer
Model No :- HM3
Machine Type :- Hammer Pulverizer Machine
Machine Size :- 27″ X 35″ X 16″
M/C Capacity :- 25 – 30 Kg/hr
Motor Type :- 3 HP/ Single Phase/ 220 V
Unit Per Hour :- 2.250
Usage :- Commercial
Min Quantity :- 1PCs
Condition :- New
Automation :- Automatic
Brand :- Confider
5 HP Hammer Mill Pulverizer
Product Details
Product Name :- 5HP Hammer Mill Pulverizer
Model No :- HM5
Machine Type :- Hammer Flour Mill
Machine Size :- Hammer Flour Mill
M/C Capacity :- 40 – 50 Kg/hr
Motor Type :- 5 HP/ Three Phase/ 220 V
Unit Per Hour :- 3.750
Usage :- Commercial
Min Quantity :- 1PCs
Condition :- New
Automation :- Automatic
Brand :- Confider