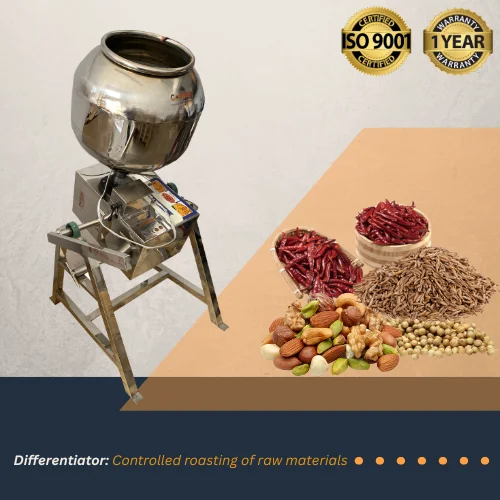 Manufacturer of Roasting Machine
People who work in the food business usually need to roast ingredients. From almonds to coriander, everything semi-dry or moist that is going to be used in a variety of procedures first needs to be roasted.
We produce roasting machines with a range of drum sizes to satisfy the needs of both home and business customers.

Technical Details of Roasting Machine
ROASTING MACHINE

MOTOR
(HP)

PHASE

WEIGHT
(KG)

MACHINE SIZE
(INCH)

CHAMBER SIZE
(INCH)

ROASTING CAPACITY
(KG/HR)

18″ DRUM – TILTING
0.5
SINGLE
66
41″ X 23″ X 36″
18″ X 18″
10 – 15
24″ DRUM – TILTING
0.5
SINGLE
90
48″ X 34″ X 56″
24″ X 24″
20 – 25
30″ DRUM – TILTING
1
SINGLE
210
78″ X 31″ X 75″
30″ X 40″
34 – 40
18″ DRUM – REGULAR
0.5
SINGLE
88
42″ X 19″ X 38″
18″ X 18″
10 – 15
24″ DRUM – REGULAR
1
SINGLE
162
68″ X 37″ X 51″
32″ X 32″
30 – 40