Choose Your Machine
1 Feet Masala Mixer Machine
Product Details
Product Name :- 1 Feet Masala Mixer Machine
Model No :- MMM1
Machine Type :- Chilli Grinding Machine For Home
Machine Size :- 30″ X 16″ X 27″
M/C Capacity :- 2 – 4 Kg/hr
Motor Type :- Single Phase/ 220 V
Unit Per Hour :- 0.25
Usage :- Home or Business
Min Quantity :- 1PCs
Condition :- New
Automation :- Automatic
Brand :- Confider
Food, flours, spices, and other similar goods need to be mixed on a daily basis in the kitchen, whether at home or in restaurants and pantries.
This work is made easier and more enjoyable by specially built mixing machines. We have built and delivered a large number of such mixing machines all over the world. Along with our specially developed machines, our standard multifunctional mixing machine serves a vast portion of our customers.
This machine is ideal for practically all mixing tasks before, during and after food preparation. This machine is available in sizes ranging from 1 to 5 feet in length. Depending on the type of material to be mixed, you can mix 2 kg to 80 kg in a single cycle.
1.5 Feet Masala Mixer Machine
Product Details
Product Name :- 1.5 Feet Masala Mixer Machine
Model No :- MMM1P5
Machine Type :- Chilli Pulverizer
Machine Size :- 35″ X 19″ X 26″
M/C Capacity :- 4 – 8 Kg/hr
Motor Type :- Single Phase/ 220 V
Unit Per Hour :- 0.5
Usage :- Commercial
Min Quantity :- 1PCs
Condition :- New
Automation :- Automatic
Brand :- Confider
2 Feet Masala Mixer Machine
Product Details
Product Name :- 2 Feet Masala Mixer Machine
Model No :- MMM2
Machine Type :- Haldi Chilli Pisne Ki Machine
Machine Size :- 49″ X 26″ X40″
M/C Capacity :- 10 – 30 Kg/hr
Motor Type :- Single Phase/ 220 V
Unit Per Hour :- 0.75
Usage :- Commercial
Min Quantity :- 1PCs
Condition :- New
Automation :- Automatic
Brand :- Confider
3 Feet Masala Mixer Machine
Product Details
Product Name :- 3 Feet Masala Mixer Machine
Model No :- MMM3
Machine Type :- Chili Powder Machine
Machine Size :- 61″ X 26″ X 40″
M/C Capacity :- 15 – 60 Kg/hr
Motor Type :- Single Phase/ 220 V
Unit Per Hour :- 1.5
Usage :- Commercial
Min Quantity :- 1PCs
Condition :- New
Automation :- Automatic
Brand :- Confider
5 Feet Masala Mixer Machine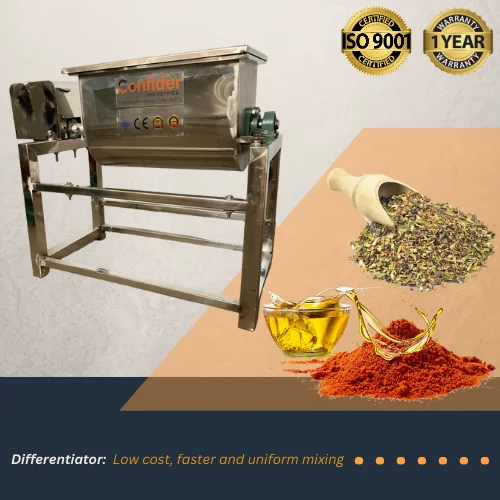 Product Details
Product Name :- 5 Feet Masala Mixer Machine
Model No :- MMM5
Machine Type :- Commercial Mixer Machine
Machine Size :- 90″ X 26″ X 40″
M/C Capacity :- 20 – 80 Kg/hr
Motor Type :- Single Phase/ 220 V
Unit Per Hour :- 2
Usage :- Commercial
Min Quantity :- 1PCs
Condition :- New
Automation :- Automatic
Brand :- Confider