Choose Your Machine
1 HP Micro Pulverizer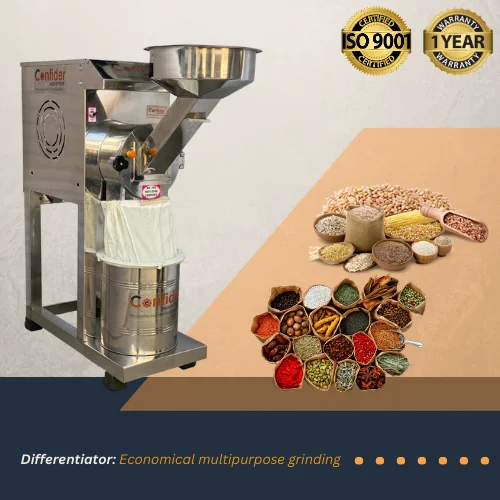 Product Details
Product Name :- 1 HP Micro Pulverizer
Model No :- SS211R
Machine Type :- Pulverizer Atta Chakki
Machine Size :- 24″ X 34″ X 12″
M/C Capacity :- 8 – 10 Kg/hr
Motor Type :- 1 HP/ Single Phase/ 220 V
Unit Per Hour :- 0.75
Usage :- Home Use
Min Quantity :- 1PCs
Condition :- New
Automation :- Automatic
Brand :- Confider
We are an industry leader in stainless steel pulverizers. We've designed a 2 in 1 type micro pulverizer made of stainless steel that can grind both grains and spices in response to the needs of our consumers across the globe.
The following are a few distinguishing characteristics of our 2 in 1 SS pulverizers:
1) There is a separate hopper for grinding spices.
2) The machine includes all essential accessories, including a flour container, container ring, spice hopper, anti-vibration knobs, cleaning brush, and flour cloth.
3) This machine can grind nearly all dry grains and spices, including wheat, maize, millet, rice, chilli, and turmeric, among others.
4) The body of this machine is made of stainless steel, which provides superior resistance to stains compared to standard steel.
5) This machine's robust cutter and beater contribute to its durability
With extensive research in every frame of process, order to deliverables, we aim to keep our pulverizer price as minimum as possible in the market.
2 HP Micro Pulverizer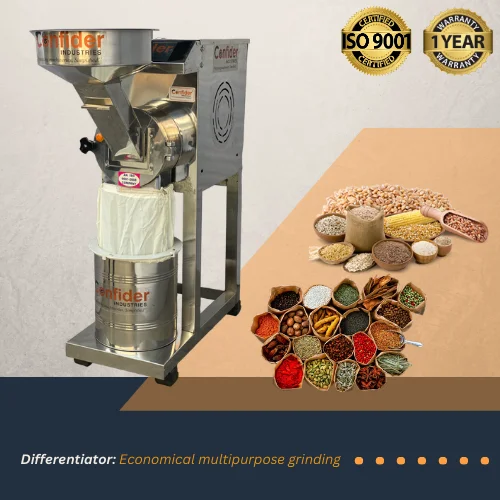 Product Details
Product Name :- 2 HP Micro Pulverizer
Model No :- SS212R
Machine Type :- 3 HP Single Phase Pulverizer
Machine Size :- 24″ X 34″ X 12″
M/C Capacity :- 12 – 15 Kg/hr
Motor Type :- 2 HP/ Single Phase/ 220 V
Unit Per Hour :- 1.5
Usage :- Home/Business
Min Quantity :- 1PCs
Condition :- New
Automation :- Automatic
Brand :- Confider
3 HP Micro Pulverizer (10″ X 5″ Chamber)
Product Details
Product Name :- 3 HP Micro Pulverizer
Model No :- SS213R10B5
Machine Type :- Stone Less Pulverizer
Machine Size :- 25″ X 38″ X 13″
M/C Capacity :- 20 – 25 Kg/hr
Motor Type :- 3 HP/ Single Phase/ 220 V
Unit Per Hour :- 2.250
Usage :- Domestic/ Commercial
Min Quantity :- 1PCs
Condition :- New
Automation :- Automatic
Brand :- Confider
3 HP Micro Pulverizer (10″ X 6″ Chamber)
Product Details
Product Name :- 3 HP Micro Pulverizer
Model No :- SS213R10B6
Machine Type :- 3 HP Single Phase Pulverizer
Machine Size :- 25″ X 43″ X 17″
M/C Capacity :- 25 – 30 Kg/hr
Motor Type :- 3 HP/ Single Phase/ 220 V
Unit Per Hour :- 2.250
Usage :- Commercial
Min Quantity :- 1PCs
Condition :- New
Automation :- Semi Automatic/ Automatic
Brand :- Confider