Choose Your Machine
3 HP Double Stage Pulverizer
Product Details
Product Name :- 3 HP Double Stage Pulverizer
Model No :- DSS213
Machine Type :- Flour Mill Pulverizer
Machine Size :- 29″ X 44″ X 18″
M/C Capacity :- 30 – 35 Kg/hr
Motor Type :- 3 HP/ Single Phase/ 220 V
Unit Per Hour :- 2.250
Usage :- Commercial
Min Quantity :- 1PCs
Condition :- New
Automation :- Automatic
Brand :- Confider
What if your attachakki has,
All side covered body
The body is constructed of quality stainless steel.
Grinding occurs in two steps, each through a distinct chamber.
Machine capacity ranges from household to major corporate requirements
Confider Industries is a pulverizer machine manufacturer company that aims to deliver innovative attachakki, also known as pulverizers, to your door.
All of the benefits listed above, as well as many more, can be obtained from our double stage pulverizer. This machine has capacities ranging from 35 kg/hr to 100 kg/hr. We strive to offer the most affordable pulverizer prices in India. Through accomplish this achievement, we are always perfecting our process, from raw material purchasing to delivery of this machine to after-sales service.
5 HP Single Phase Double Stage Pulverizer
Product Details
Product Name :- 5 HP Single Phase Double Stage Pulverizer
Model No :- DSS215P1
Machine Type :- Pulverizer Mill
Machine Size :- 29″ X 48″ X 18″
M/C Capacity :- 35 – 40 Kg/hr
Motor Type :- 5HP/ Single Phase/ 220V
Unit Per Hour :- 3.750
Usage :- Commercial
Min Quantity :- 1PCs
Condition :- New
Automation :- Automatic
Brand :- Confider
5 HP Three Phase Double Stage Pulverizer
Product Details
Product Name :- 5 HP Three Phase Double Stage Pulverizer
Model No :- DSS215P3
Machine Type :- Commercial Pulverizer Machine
Machine Size :- 29″ X 48″ X 18″
M/C Capacity :- 50 – 60 Kg/hr
Motor Type :- 5 HP/ Three Phase/ 220 V
Unit Per Hour :- 3.750
Usage :- Commercial
Min Quantity :- 1PCs
Condition :- New
Automation :- Automatic
Brand :- Confider
7.5 HP Double Stage Pulverizer
Product Details
Product Name :- 7.5HP Double Stage Pulverizer
Model No :- DSS217P5
Machine Type :- Pulverizer Atta Chakki
Machine Size :- 42″ X 57″ X 30″
M/C Capacity :- 70 – 80 Kg/hr
Motor Type :- 7.5HP/ Three Phase/ 220V
Unit Per Hour :- 5.7
Usage :- Commercial
Min Quantity :- 1PCs
Condition :- New
Automation :- Automatic
Brand :- Confider
10 HP Double Stage Pulverizer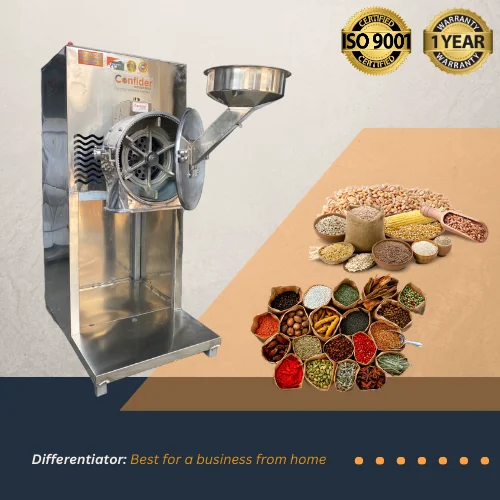 Product Details
Product Name :- 10 HP Double Stage Pulverizer
Model No :- DSS2110
Machine Type :- Commercial Pulverizer Machine
Machine Size :- 45″ X 60″ X 35″
M/C Capacity :- 100 – 120 Kg/hr
Motor Type :- 10HP/ Three Phase/ 220V
Unit Per Hour :- 7.5
Usage :- Commercial
Min Quantity :- 1PCs
Condition :- New
Automation :- Automatic
Brand :- Confider