Choose Your Machine
400 WATT Oil Machine For Home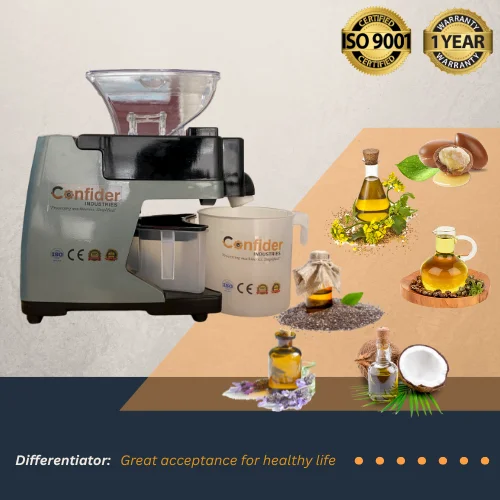 Product Details
Product Name :- 400 WATT Oil Machine For Home
Model No :- OE400P
Machine Type :- Oil Expeller
Machine Size :- 18″ X 9″ X 17″
M/C Capacity :- 2.5 – 5 Kg/hr
Motor Type :- 400 Watt/ Single Phase/ 220 V
Unit Per Hour :- 0.4
Usage :- Commercial
Min Quantity :- 1PCs
Condition :- New
Automation :- Automatic
Brand :- Confider
The secret to a long and healthy life is cooking using homemade, nutritious edible oil. Customers from all over the world can purchase an oil making machine from Confider Industries. This oil machine for home can be ordered online and shipped to any address in the world. These are just some of the many benefits of our machine:
1) It can be used to extract oil from a wide variety of oil seeds, including peanuts, coconut, sesame, soybean, walnuts, sunflower seeds, vegetable seeds, flax seeds, almonds, and mustard.
2) The machine uses only 0.4 kilowatt hours of power each hour. This machine just needs single-phase electricity; therefore, no cumbersome three-phase lines are needed.
3) All food-contact components are composed of stainless steel, but the machine's plastic body maintains it lightweight and in compliance with food safety standards.
4) Both hot pressing of oil seeds and cold press oil extraction are possible, with the former requiring the use of high-quality heaters. This means that the machine can serve as both a hot-press oil expeller and a cold-press oil expeller.
5) High-temperature glove, a cleaning brush, a screwdriver, a power cord, an oil cup plus a filter tank, a socket wrench, and a cup for holding slag are all included in our oil extraction machine price for your convenience.
Along with this, high capacity oil machines are too manufactured by us