Choose Your Machine
2 HP Chilli Grinding Machine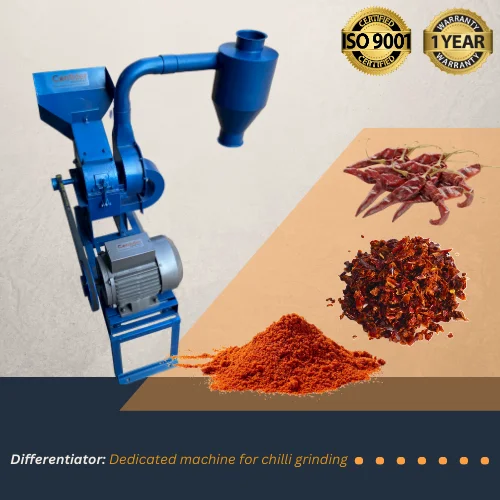 Product Details
Product Name :- 2HP Chilli Grinding Machine
Model No :- CGM2
Machine Type :- Chilli Grinding Machine For Home
Machine RPM :- 3840
M/C Capacity :- 22 Kg/hr
Motor Type :- 2 HP/ Single Phase/ 220 V
Unit Per Hour :- 1.5
Usage :- Home or Business
Min Quantity :- 1PCs
Condition :- New
Automation :- Automatic
Brand :- Confider
Chilli is one of the most ubiquitous spices in the world, drawing the attention of chefs, culinary critics, and scientists who are always looking to find new ways to use it. There is a global market for every variety and form of chilli, from the semi-crushed flakes to the finely ground powder.
When it comes to offering a wide and reasonably priced selection of high-quality chilli machine, Confider Industries is unrivalled. Our chilli machine selection is wide since we base our pricing mostly on the needs of our customers. Whether you're just starting out or are already a major player in the market for chilli grinders, we have something for you. Machines can be purchased with or without our motor, and production rates can range from 10 to 300 kg/h.
In addition to these obvious advantages, customers are often pleasantly surprised by other ones, such as the ability to pay in cash upon delivery, rapid round-the-clock product assistance, and customization at manufacturing level itself.
Get the most out of your money by purchasing one of our several chilli grinding machines for home or in business.
3 HP Chilli Grinding Machine
Product Details
Product Name :- 3HP Chilli Grinding Machine
Model No :- CGM3
Machine Type :- Chilli Pulverizer
Machine RPM :- 3840
M/C Capacity :- 35 Kg/hr
Motor Type :- 3 HP/ Single Phase/ 220 V
Unit Per Hour :- 2.250
Usage :- Commercial
Min Quantity :- 1PCs
Condition :- New
Automation :- Automatic
Brand :- Confider
5 HP Chilli Grinding Machine
Product Details
Product Name :- 5 HP Chilli Grinding Machine
Model No :- CGM5
Machine Type :- Haldi Chilli Pisne Ki Machine
Machine RPM :- 3840
M/C Capacity :- 55 Kg/hr
Motor Type :- 5 HP/Three Phase/ 220 V
Unit Per Hour :- 3.750
Usage :- Commercial
Min Quantity :- 1PCs
Condition :- New
Automation :- Automatic
Brand :- Confider
7.5 HP Chilli Grinding Machine
Product Details
Product Name :- 7.5HP Chilli Grinding Machine
Model No :- CGM7P5
Machine Type :- Chili Powder Machine
Machine Size :- 3840
M/C Capacity :- 75 Kg/hr
Motor Type :- 7.5 HP/ Three Phase/ 220 V
Unit Per Hour :- 5.7
Usage :- Commercial
Min Quantity :- 1PCs
Condition :- New
Automation :- Automatic
Brand :- Confider
10 HP Chilli Grinding Machine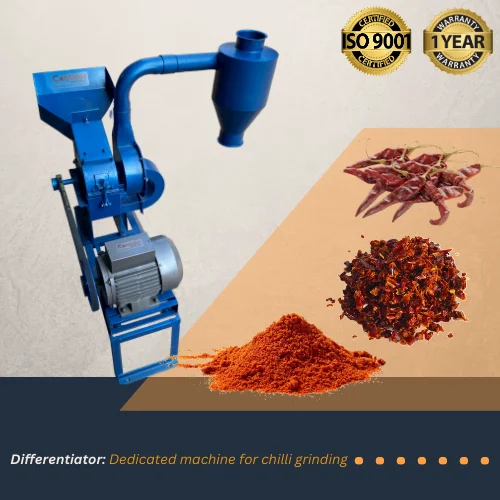 Product Details
Product Name :- 10HP Chilli Grinding Machine
Model No :- CGM10
Machine Type :- Red Chilli Grinder Machine
Machine RPM :- 3840
M/C Capacity :- 110 Kg/hr
Motor Type :- 10 HP/ Three Phase/ 220 V
Unit Per Hour :- 7.5
Usage :- Commercial
Min Quantity :- 1PCs
Condition :- New
Automation :- Automatic
Brand :- Confider
15 HP Chilli Grinding Machine
Product Details
Product Name :- 15 HP Chilli Grinding Machine
Model No :- CGM15
Machine Type :- Chilli Powder Grinding Machine
Machine RPM :- 3840r
M/C Capacity :- 160 Kg/hr
Motor Type :- 15 HP/ Three Phase/ 220 V
Unit Per Hour :- 11.25
Usage :- Commercial
Min Quantity :- 1PCs
Condition :- New
Automation :- Automatic
Brand :- Confider
20 HP Chilli Grinding Machine
Product Details
Product Name :- 20HP Chilli Grinding Machine
Model No :- CGM20
Machine Type :- Chilli Powder Making Machine
Machine RPM :- 3840
M/C Capacity :- 210 Kg/hr
Motor Type :- 20 HP/ Three Phase/ 220 V
Unit Per Hour :- 15
Usage :- Commercial
Min Quantity :- 1PCs
Condition :- New
Automation :- Automatic
Brand :- Confider