Choose Your Machine
0.5 HP Namkeen Mixer Machine
Product Details
Product Name :- 0.5 HP Namkeen Mixer Machine
Model No :- NMM0P5
Machine Type :- Mixing Machinery
Machine Size :- 30″ x 16″ x 27″
M/C Capacity :- 10 Kg/Cycle
Motor Type :- 0.5 HP/ Single Phase/ 220 V
Unit Per Hour :- 0.375
Usage :- Commercial
Min Quantity :- 1PCs
Condition :- New
Automation :- Automatic
Brand :- Confider
Whether it's the food and beverage industry, the pharmaceutical sector, the petroleum industry, or the chemical and plastics sector, mixing is a crucial step in the production process.
After its initial production as a namkeen mixer, this machine's ability to mix powders in the pharmaceutical sector and spices in the food business makes it useful in a wide variety of process industries. Due to the machine's inexpensive initial investment and high rate of return on investment, it has become increasingly popular as mixer machinery in the plastics, textiles and almost all processing industries.
The drum of our mixing machines can range in diameter from 1.5 feet to 5 feet. This size drum is ideal for mixing tasks requiring 200 kg each cycle or stock. From the machine's body material to its drum size and motor capacity to its power line requirement, we customize it all.
1 HP Namkeen Mixer Machine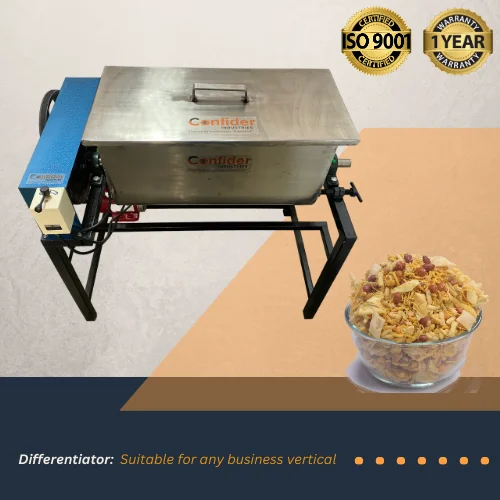 Product Details
Product Name :- 1 HP Namkeen Mixer Machine
Model No :- NMM1
Machine Type :- Mixing Machinery
Machine Size :- 12″ X 16″ X 27″
M/C Capacity :- 20 Kg/Cycle
Motor Type :- 1 HP/ Single Phase/ 220 V
Unit Per Hour :- 0.75
Usage :- Commercial
Min Quantity :- 1PCs
Condition :- New
Automation :- Automatic
Brand :- Confider
2 HP Namkeen Mixer Machine
Product Details
Product Name :- 2 HP Namkeen Mixer Machine
Model No :- NMM2
Machine Type :- Mixing Machinery
Machine Size :- 14″ X 22″ X 27″
M/C Capacity :- 50 Kg/Cycle
Motor Type :- 2 HP/ Single Phase/ 220 V
Unit Per Hour :- 1.5
Usage :- Commercial
Min Quantity :- 1PCs
Condition :- New
Automation :- Automatic
Brand :- Confider
3 HP Namkeen Mixer Machine
Product Details
Product Name :- 3 HP Namkeen Mixer Machine
Model No :- NMM3
Machine Type :- Mixing Machinery
Machine Size :- 22″ X 27″ X 42″
M/C Capacity :- 100 Kg/Cycle
Motor Type :- 3 HP/ Single Phase/ 220 V
Unit Per Hour :- 2.250
Usage :- Commercial
Min Quantity :- 1PCs
Condition :- New
Automation :- Automatic
Brand :- Confider
5 HP Namkeen Mixer Machine
Product Details
Product Name :- 5 HP Namkeen Mixer Machine
Model No :- NMM5
Machine Type :- Mixing Machinery
Machine Size :- 30″ X 34″ X 58″
M/C Capacity :- 200 Kg/Cycle
Motor Type :- 5 HP/ Three Phase/ 220 V
Unit Per Hour :- 3.750
Usage :- Commercial
Min Quantity :- 1PCs
Condition :- New
Automation :- Automatic
Brand :- Confider