Choose Your Machine
300 Gram Mini Masala Grinder Machine
Product Details
Product Name :- 300 Gram Mini Masala Grinder Machine
Model No :- MMG300
Machine Type :- Masala Machine
Machine Size :- 9″ X 13″ X 7″
M/C Capacity :- 300 Gram/Cycle
Motor Type :- Single Phase
RPM :- 25000
Usage :- Commercial
Min Quantity :- 1PCs
Condition :- New
Automation :- Automatic
Brand :- Confider
Confider Industries' small spice grinding machine or mini masala grinder is one of the cutting-edge machine for grinding spices at home quickly and precisely.
The included bowls range in size from 300 gms to 2 kg, making this grinder suitable for grinding a wide variety of dry goods, from grains to spices.
As high as 25000 rpm speed of this machine completes its task within seconds to minutes. Along with dry spices, other similar items can also be ground in this machine. This makes this machine more adaptable for daily kitchen need.
500 Gram Mini Masala Grinder Machine
Product Details
Product Name :- 500 Gram Mini Masala Grinder Machine
Model No :- MMG500
Machine Type :- Masala Grinder Machine
Machine Size :- 8″ X 15″ X 8″
M/C Capacity :- 500 Gram/Cycle
Motor Type :- Single Phase
RPM :- 25000
Usage :- Domestic
Min Quantity :- 1PCs
Condition :- New
Automation :- Automatic
Brand :- Confider
1 KG Mini Masala Grinder Machine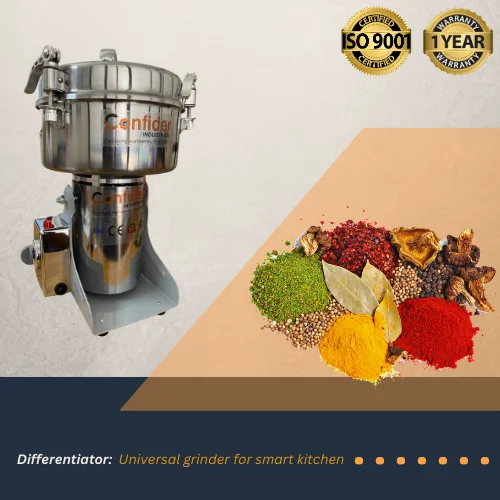 Product Details
Product Name :- 1KG Mini Masala Grinder Machine
Model No :- MGM1000
Machine Type :- Masala Mixer Machine
Machine Size :- 10″ X 15″ X 9″
M/C Capacity :- 1 Kg/Cycle
Motor Type :- Single Phase
RPM :- 25000
Usage :- Business
Min Quantity :- 1PCs
Condition :- New
Automation :- Automatic
Brand :- Confider
2 KG Mini Masala Grinder Machine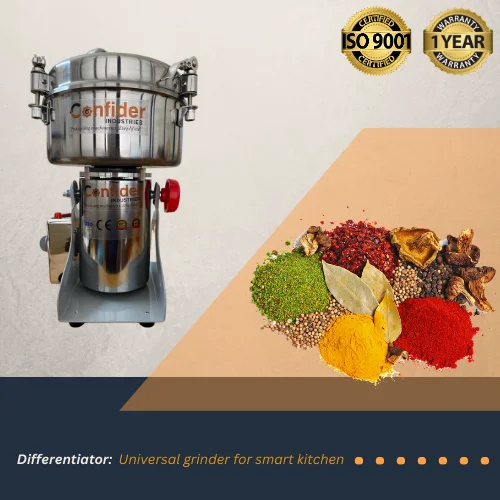 Product Details
Product Name :- 2KG Mini Masala Grinder Machine
Model No :- MGM2000
Machine Type :- Masala Pisne Wala Machine
Machine Size :- 11″ X 17″ X 10″
M/C Capacity :- 2 Kg/Cycle
Motor Type :- Single Phase
RPM :- 25000
Usage :- Commercial
Min Quantity :- 1PCs
Condition :- New
Automation :- Automatic
Brand :- Confider