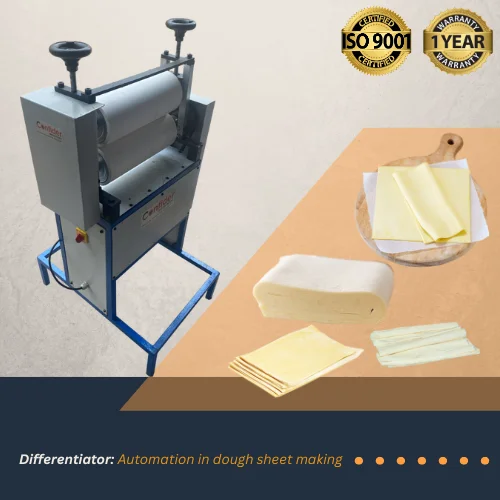 Manufacturer of Atta Sheeter Machine
The food sector, and particularly businesses with continuous food processing units, cannot function without atta sheets. This decentralized food processing sector has been preparing sheets by hand for long time.
We have built a number of machines that can provide this service to the client without any human intervention. This particular atta sheeter machine model offers a feed capacity of up to 40 kg/hr., allowing customers to choose from a variety of standard sheet sizes. Unlike machines that require a bulky three-phase power supply, this one only needs a single-phase power line to function.
Technical Details of Atta Sheeter Machine
ATTA SHEETER MACHINE

PHASE

WEIGHT
(KG)

MACHINE SIZE
(INCH)

CAPACITY (KG/HR)
3 HP
SINGLE
44
36″ X 16″ X 35″
4