Choose Your Machine
5 HP Single Stage Pulverizer For Small Business
Product Details
Product Name :- 5 HP Single Stage Pulverizer For Small Business
Model No :- CGM2
Machine Type :- Chilli Grinding Machine For Home
Machine RPM :- 3840
M/C Capacity :- 35-45 Kg/hr
Motor Type :- 5 HP/ Three Phase/ 220 V
Unit Per Hour :- 3
Usage :- Home or Business
Min Quantity :- 1PCs
Condition :- New
Automation :- Automatic
Brand :- Confider
Confider Industries' success is dependent on machine customization. We always do our best to meet our clients' needs. We designed this machine so that we may provide maximum customization to our customers all around the world.
Here are just a handful of the pulverizer's most notable features:
1) If you already have a motor or know where to find one in your area, you can buy the machine without the motor.
2) Because the machine is suited for both single phase and three phase power lines, you do not need to be concerned about three phase power lines.
3) We include a pulley with the machine so you don't have to figure it out if you're handling the motor yourself.
4) A huge hopper is provided so that customer does not need to feed material continuously,
5) A tractor or generator can be used as the primary mover. In that case, an electric motor is not required to operate the machine.
5 HP Double Stage Pulverizer For Small Business
Product Details
Product Name :- 5 HP Double Stage Pulverizer For Small Business
Model No :- CGM3
Machine Type :- Chilli Pulverizer
Machine RPM :- 3840
M/C Capacity :- 45-55 Kg/hr
Motor Type :- 5 HP/ Single Phase/ 220 V
Unit Per Hour :- 3
Usage :- Commercial
Min Quantity :- 1PCs
Condition :- New
Automation :- Automatic
Brand :- Confider
5 HP Double Stage With Cyclone Pulverizer For Small Business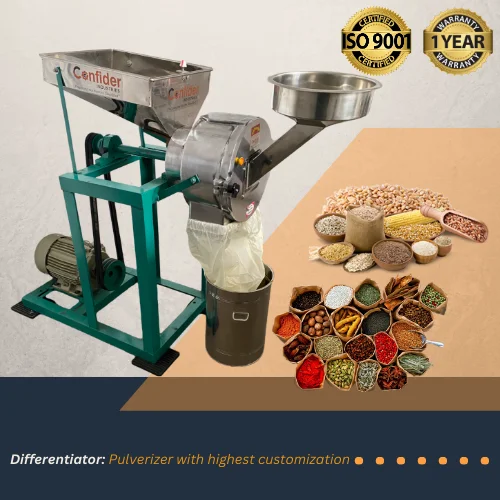 Product Details
Product Name :- 5 HP Double Stage With Cyclone Pulverizer For Small Business
Model No :- CGM5
Machine Type :- Haldi Chilli Pisne Ki Machine
Machine RPM :- 3840
M/C Capacity :- 55-65 Kg/hr
Motor Type :- 5 HP/Three Phase/ 220 V
Unit Per Hour :- 3.750
Usage :- Commercial
Min Quantity :- 1PCs
Condition :- New
Automation :- Automatic
Brand :- Confider
7.5 HP Sinlge Stage Pulverizer For Small Business
Product Details
Product Name :- 7.5 HP Sinlge Stage Pulverizer For Small Business
Model No :- CGM7P5
Machine Type :- Chili Powder Machine
Machine RPM :- 3840
M/C Capacity :- 40-50 Kg/hr
Motor Type :- 7.5 HP/ Three Phase/ 220 V
Unit Per Hour :- 5.7
Usage :- Commercial
Min Quantity :- 1PCs
Condition :- New
Automation :- Automatic
Brand :- Confider
7.5 HP Double Stage Pulverizer For Small Business
Product Details
Product Name :- 7.5 HP Double Stage Pulverizer For Small Business
Model No :- CGM10
Machine Type :- Red Chilli Grinder Machine
Machine RPM :- 3840
M/C Capacity :- 70-80 Kg/hr
Motor Type :- 7.5 HP/ Three Phase/ 220 V
Unit Per Hour :- 6
Usage :- Commercial
Min Quantity :- 1PCs
Condition :- New
Automation :- Automatic
Brand :- Confider
7.5 HP Double Stage With Cyclone Pulverizer For Small Business
Product Details
Product Name :- 7.5 HP Double Stage With Cyclone Pulverizer For Small Business
Model No :- CGM15
Machine Type :- Chilli Powder Grinding Machine
Machine RPM :- 3840
M/C Capacity :- 80-90 Kg/hr
Motor Type :- 7.5 HP/ Three Phase/ 220 V
Unit Per Hour :- 6
Usage :- Commercial
Min Quantity :- 1PCs
Condition :- New
Automation :- Automatic
Brand :- Confider