Choose Your Machine
1 HP All Fruit Juice Machine
Product Details
Product Name :- 1 HP All Fruit Juice Machine
Model No :- AFJ1
Machine Type :- Commercial Juice Machine
Machine Size :- 34″ X 19″ X 34″
M/C Capacity :- 50 – 100 Kg/hr
Motor Type :- 1 HP/ Single Phase/ 220 V
Unit Per Hour :- 0.75
Usage :- Commercial
Min Quantity :- 1PCs
Condition :- New
Automation :- Automatic
Brand :- Confider
Looking for a way to kickstart your small business? Look no further than this all fruit juice machine. This box-style machine is made of standard stainless steel and would look excellent on any countertop in your restaurant or business. This machine can handle a variety of fruits. It's also inexpensive! It's ideal for any new business or home-based operation.
We have three models with capacities of 50 kg, 200 kg, and 400 kg/hr: This complete range can cover all kinds of customers from small vendors to large commercial units. Thanks to its ergonomic and aesthetic design, this machine is widely considered as a gifting option among users. In addition to this multipurpose juicer, we also manufacture fruit specific juice machine like mango juice machine for your exact need.
We also provide home delivery straight from our manufacturing facility in Ahmedabad, so you can have this equipment delivered to your location. We also offer cash on delivery (COD) option to our customers!
1.5 HP All Fruit Juice Machine
Product Details
Product Name :- 1.5 HP All Fruit Juice Machine
Model No :- AFJ1P5
Machine Type :- Business Juicer Machine
Machine Size :- 43″ X 22″ X 39″
M/C Capacity :- 200 – 250 Kg/hr
Motor Type :- 1.5 HP/ Single Phase/ 220 V
Unit Per Hour :- 1.125
Usage :- Commercial
Condition :- New
Min Quantity :- 1PCs
Automation :- Automatic
Brand :- Confider
2 HP All Fruit Juice Machine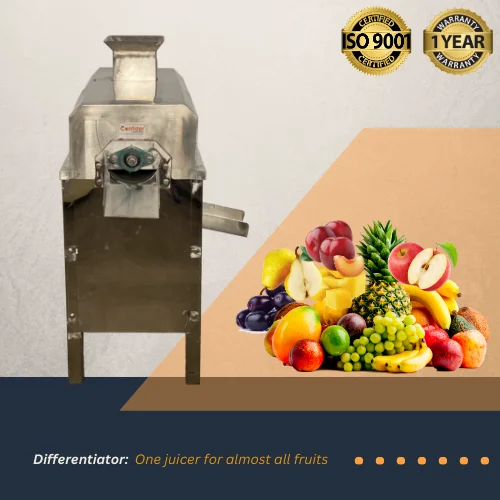 Product Details
Product Name :- 2 HP All Fruit Juice Machine
Model No :- AFJ2
Machine Type :- Industrial Juicer Machine
Machine Size :- 53″ X 26″ X 40″
M/C Capacity :- 400 – 500 Kg/hr
Motor Type :- 2 HP/ Three Phase/ 220 V
Unit Per Hour :- 1.5
Usage :- Commercial
Min Quantity :- 1PCs
Condition :- New
Automation :- Automatic
Brand :- Confider