Choose Your Machine
5 KG Potato Peeler
Product Details
Product Name :- 5 KG Potato Peeler
Model No :- PPM5
Machine Type :- Potato Peeling Machine
Machine Size :- 27″ X 14″ X 19″
M/C Capacity :- 2 – 3 Min/Cycle
Motor Type :- 0.5 HP/ Single Phase/ 220 V
Unit Per Hour :- 0.375
Usage :- Commercial
Min Quantity :- 1PCs
Condition :- New
Automation :- Automatic
Brand :- Confider
Potato peeler machines manufactured by Confider Industries are extremely well known and respected within the food sector. We have a wide customer base all over the world who appreciate the trouble-free operation of our potato peeling equipment and the prompt, professional assistance they receive whenever they need it.
Our potato peeling machines have a capacity that can range from 5 kg to 50 kg of potatoes at a time. In order to get high-quality results while peeling potatoes, a surface made of high-quality emery is given.
Along with potato peeler, we have developed the garlic peeler machine.
10 KG Potato Peeler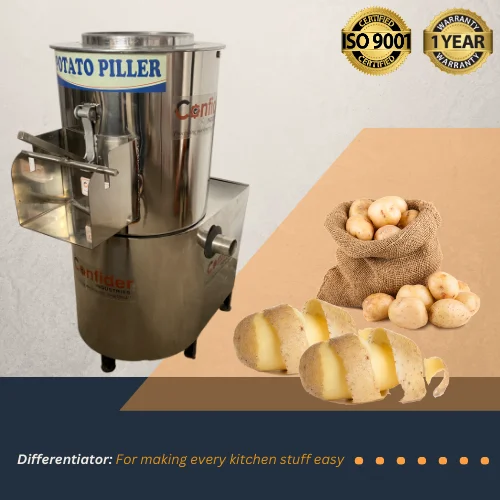 Product Details
Product Name :- 10 KG Potato Peeler
Model No :- PPM10
Machine Type :- Potato and Ginger Peeling Machine
Machine Size :- 28″ X 16″ X 32″
M/C Capacity :- 2 – 3 Min/Cycle
Motor Type :- 0.5HP/ Single Phase/ 220V
Unit Per Hour :- 0.375
Usage :- Commercial
Min Quantity :- 1PCs
Condition :- New
Automation :- Automatic
Brand :- Confider
15 KG Potato Peeler
Product Details
Product Name :- 15KG Potato Peeler
Model No :- PPM15
Machine Type :- Potato and Onion Peeling Machine
Machine Size :- 30″ X 18″ X 36″
M/C Capacity :- 4 – 5 Min/Cycle
Motor Type :- 1 HP/ Single Phase/ 220 V
Unit Per Hour :- 0.75
Usage :- Commercial
Min Quantity :- 1PCs
Condition :- New
Automation :- Automatic
Brand :- Confider
20 KG Potato Peeler
Product Details
Product Name :- 20KG Potato Peeler
Model No :- PPM20
Machine Type :- Potato and Cassava Peeling Machine
Machine Size :- 31″ X 19″ X 39″
M/C Capacity :- 6 – 7 Min/Cycle
Motor Type :- 1.5 HP/ Single Phase/ 220 V
Unit Per Hour :- 1.125
Usage :- Commercial
Min Quantity :- 1PCs
Condition :- New
Automation :- Automatic
Brand :- Confider
25 KG Potato Peeler
Product Details
Product Name :- 25KG Potato Peeler
Model No :- PPM25
Machine Type :- Vegetable and Fruit Peeling Machine
Machine Size :- 33″ X 20″ X 43″
M/C Capacity :- 6 – 7 Min/Cycle
Motor Type :- 1.5 HP/ Single Phase/ 220 V
Unit Per Hour :- 1.125
Usage :- Commercial
Min Quantity :- 1PCs
Condition :- New
Automation :- Automatic
Brand :- Confider
50 KG Potato Peeler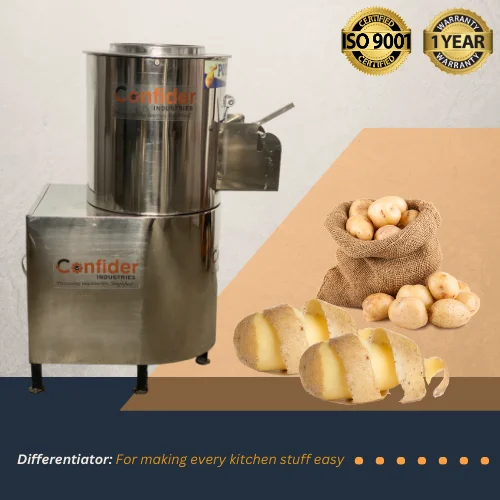 Product Details
Product Name :- 50 KG Potato Peeler
Model No :- PPM50
Machine Type :- Commercial Potato Peeling Machine
Machine Size :- 48″ X 28″ X 45″
M/C Capacity :- 7 – 8 Min/Cycle
Motor Type :- 3 HP/ Single Phase/ 220 V
Unit Per Hour :- 2.25
Usage :- Commercial
Min Quantity :- 1PCs
Condition :- New
Automation :- Automatic
Brand :- Confider