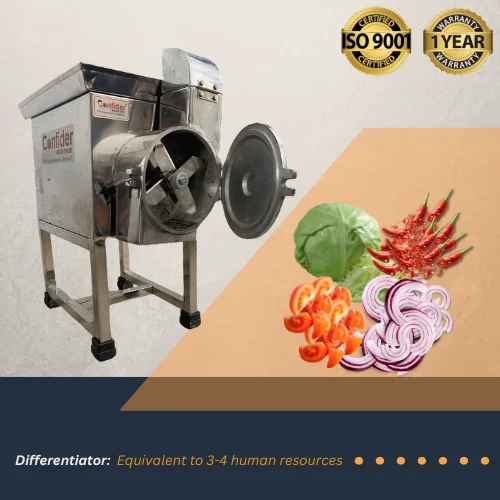 Manufacturer of Vegetable Chopping Machine
Confider Industries has developed a vegetable chopping machine with only fundamental features. Because of this, we could reduce the cost of this machine by removing extraneous features. This machine is versatile, as it can also chop fruits and dry fruits in addition to vegetables. With motor capacities of 1 HP and 2 HP, this machine can process up to 80 kg/hr of material. This machine is differed from vegetable cutting machine in a way that it can chop the material very small in contrast to courser in later one.
Our machine, which come with different blades, find widespread application in a variety of places, including home kitchens, cloud kitchens, restaurants, and hotels. Food preparation in a kitchen can be reduced from hours to minutes with this simplified machine, and in most industrial kitchens, it only takes a couple of hours to complete the day's chopping.
Technical Details of Chopping Machine
CHOPPING MACHINE

MOTOR
(HP)

PHASE

WEIGHT
(KG)

MACHINE SIZE
(INCH)

SCREEN

CHOPPING CAPACITY
(KG/HR)

1 HP
1HP
SINGLE
32
20″ X 15″ X 21″
4
40
2 HP
2HP
SINGLE
55
23″ X 17″ X 26″
4
80