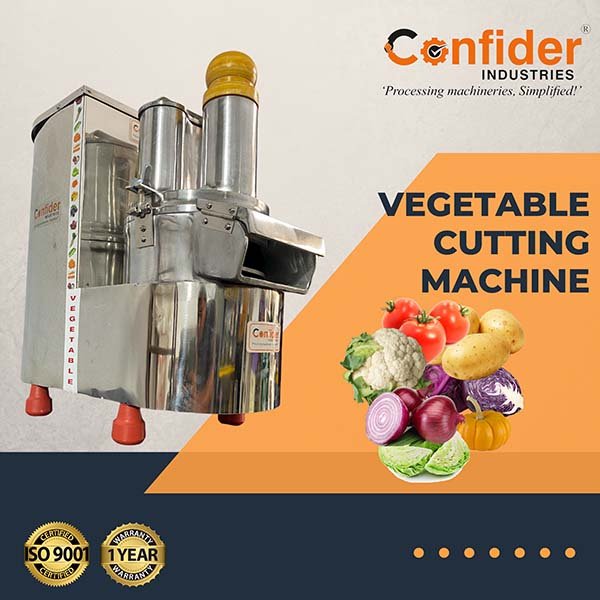 Welcome To The Confider Industries !
Manufacturer and Exporter of Vegetable Cutting Machine
We make vegetable cutting, slicing, and chopping simple and enjoyable with our low-cost multipurpose vegetable processing machine.
With up to 8 different blades for slicing, chopping, or cutting vegetables, this machine can do it all in your home kitchen, restaurant, or hotel kitchen.
Because of the minimal power need, this machine has a cheap operating cost. This makes this machine more ideal for home-based business startups or big firms in this industry.
This machine can handle a wide variety of vegetables and fruits, including potatoes, onions, cabbage, and pumpkin etc. This machine has capacities ranging from 15 kg/hr to 600 kg/hr. It makes sense when you need to cut your vegetables in minutes or even seconds.
Confider Industries
Technical Details of Vegetable Cutting Machine
VEGETABLE CUTTING MACHINE
MOTOR
(HP)
PHASE
WEIGHT
(KG)
MACHINE SIZE
(INCH)
BLADES
CUTTING CAPACITY
(KG/HR)
1 HP SS
1
SINGLE
40
20″ X 23″ X 11″
8
150 – 200
1 HP MS
1
SIGNLE
45
21″ X 20″ X 11″
7
200 – 250
2 HP SS
2
SINGLE
90
30″ X 25″ X 20″
7
500 – 600
Confider Industries
Why Choose Us
Our rigorous approach towards client satisfaction and product quality is at the center of confider industries. Our enriched experience in Food Processing Machineries have shaped us to serve the whole spectrum of clients. The formidable team of professionals at confider industries has made it possible to undertake and deliver machineries and plants irrespective of the size, with extreme precision and measurement. We have established ourselves experts in the industry and we are committed to improve each day without fail.