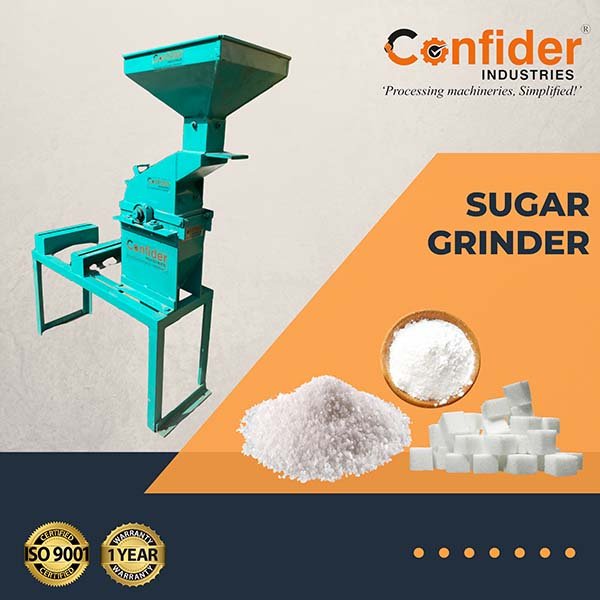 Welcome To The Confider Industries !
Manufacturer and Exporter of Sugar Grinder
The premium range of devices offered by Confider Industries includes specialized grinders for sugar, coffee, and salt. In addition to grinders that can be used for a variety of purposes, some grinders are tailored to a single item in order to serve a certain type of customer.
Our sugar grinding machine has a capacity of up to 150 kg per hour and is available for purchase. If you already have a motor that you wish to use with this grinding machine, you can purchase this machine without the motor.
You are able to place an order for this machine over the phone, and it will be delivered to your doorstep.
Confider Industries
Technical Details of Sugar Grinder
SUGAR GRINDER
MOTOR
(HP)
PHASE
WEIGHT
(KG)
MACHINE SIZE
(INCH)
CHAMBER SIZE
(INCH)
GRINDING CAPACITY
(KG/HR)
2 HP
2
SINGLE
95
28″ X 20″ X 36″
4″ X 8″
80 KG
3 HP
3
SINGLE
110
33″ X 22″ X 36″
5″ X 10″
150 KG
Confider Industries
Why Choose Us
Our rigorous approach towards client satisfaction and product quality is at the center of confider industries. Our enriched experience in Food Processing Machineries have shaped us to serve the whole spectrum of clients. The formidable team of professionals at confider industries has made it possible to undertake and deliver machineries and plants irrespective of the size, with extreme precision and measurement. We have established ourselves experts in the industry and we are committed to improve each day without fail.