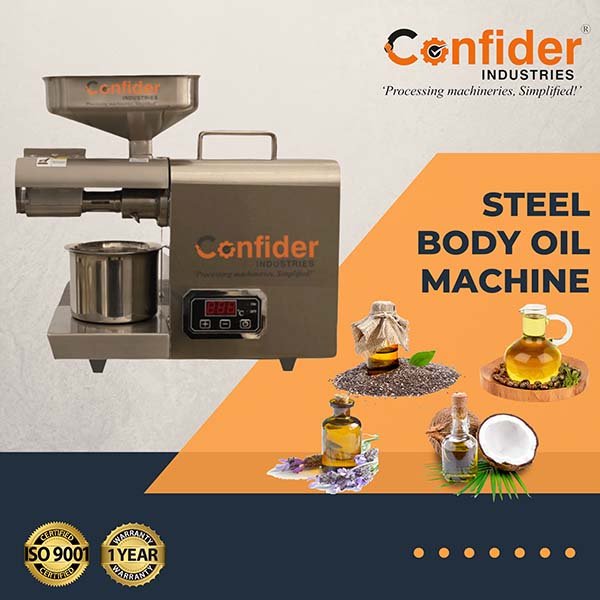 Welcome To The Confider Industries !
Manufacturer and Exporter of Steel Body Domestic Oil Machine
You may produce any kind of oil at home using our Oil Making Machine. This is the machine for you if you own a small business, are a home cook, or simply wish to manufacture your own oil and butter. This equipment includes everything you need to begin creating your own oils and butters. It's composed of basic stainless-steel material, so it'll last for years—and it's far less expensive than other alternatives.
All of the necessary accessories are also included in the bundle, so no further funds are required. The machine also includes a one-year warranty on its motors, which means that if anything goes wrong with the motor during that time, we will fix it. We can send this equipment directly from our production facility in Ahmedabad, so it will arrive at your door direct from manufacturing unit avoiding long expensive delivery channel! If you want to pay against delivery, we also have a cash on delivery (COD) option.
Confider Industries
Technical Details of Steel Body Domestic Oil Machine
| STEEL BODY DOMESTIC OIL MACHINE | PHASE | WEIGHT (KG) | MACHINE SIZE (INCH) | TEMP. CONTROL | SQUEEZING CAPACITY (KG/HR) |
| --- | --- | --- | --- | --- | --- |
| 400 WATT | SINGLE | 10 | 13″ X 6″ X 14″ | NO | 4-6 |
| 400 WATT | SINGLE | 10 | 13″ X 6″ X 14″ | YES | 4-6 |
| 600 WATT | SINGLE | 12 | 15″ X 6″ X 14″ | NO | 5-8 |
| 600 WATT | SINGLE | 12 | 15″ X 6″ X 14″ | YES | 5-8 |
Confider Industries
Why Choose Us
Our rigorous approach towards client satisfaction and product quality is at the center of confider industries. Our enriched experience in Food Processing Machineries have shaped us to serve the whole spectrum of clients. The formidable team of professionals at confider industries has made it possible to undertake and deliver machineries and plants irrespective of the size, with extreme precision and measurement. We have established ourselves experts in the industry and we are committed to improve each day without fail.