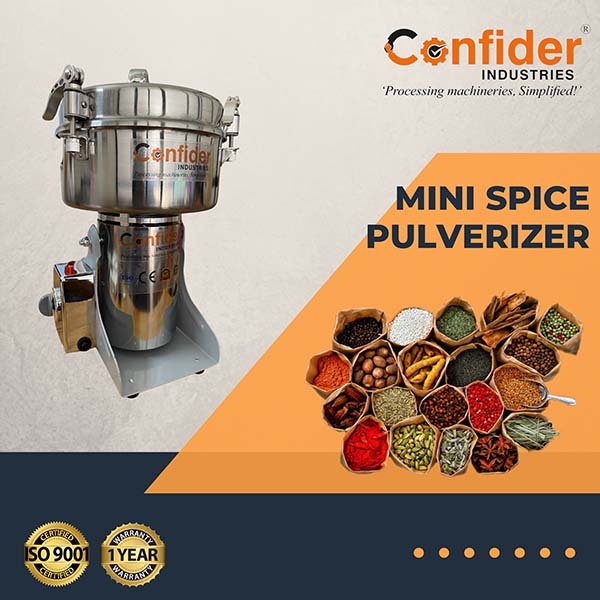 Welcome To The Confider Industries !
Manufacturer and Exporter of Mini Spice Grinder
Confider Industries' small spice grinding or mini masala grinder is one of the cutting-edge equipment for grinding spices at home quickly and precisely.
The included bowls range in size from 300 gms to 2 kg, making this grinder suitable for grinding a wide variety of dry goods, from grains to spices.
As high as 25000 rpm speed of this machine completes its task within seconds to minutes. Along with dry spices, other similar items can also be ground in this machine. This makes this machine more adaptable for daily kitchen need.

Confider Industries
Technical Details of Mini Spice Grinder
MINI SPICE GRINDER
MOTOR
(W)
PHASE
WEIGHT
(KG)
MACHINE SIZE
BOWL SIZE
GRINDING CAPACITY (KG/CYCLE)
300 GRAM BOWL
1500
SINGLE
4.5
9 X 13 X 7
300 GM
300
500 GRAM BOWL
2000
SINGLE
8
8 X 15 X 8
500 GM
500
1 KG BOWL
3000
SINGLE
9
10 X 15 X 9
1 KG
1000
2 KG BOWL
4000
SINGLE
14
11 X 17 X 10
2 KG
2000
Confider Industries
Why Choose Us
Our rigorous approach towards client satisfaction and product quality is at the center of confider industries. Our enriched experience in Food Processing Machineries have shaped us to serve the whole spectrum of clients. The formidable team of professionals at confider industries has made it possible to undertake and deliver machineries and plants irrespective of the size, with extreme precision and measurement. We have established ourselves experts in the industry and we are committed to improve each day without fail.