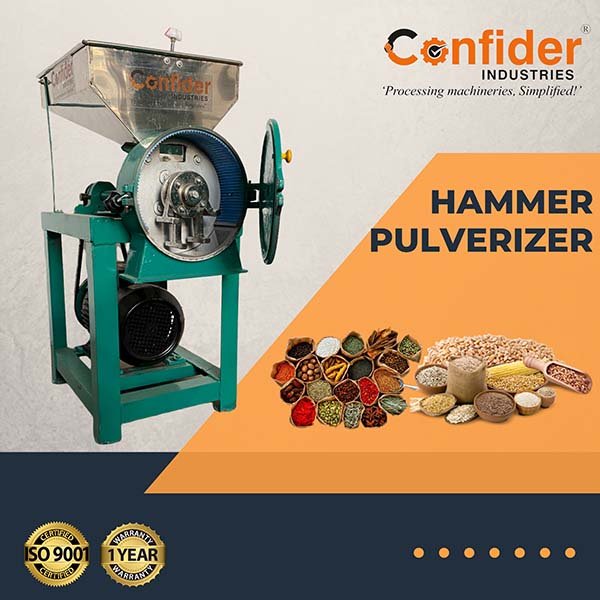 Welcome To The Confider Industries !
Manufacturer and Exporter of Hammer Pulverizer
Confider Industries' hammer pulverizer is also known as a wheat flouring machine or a wheat mill.
Instead of a fixed beater, the hammer pulverizer comes with a set of hammer style hanging beaters. This setup is more shock resistant than a stationary beater. This machine is available with motor capacities ranging from 2 to 5 HP. Single phase power supplies are compatible with 2 HP and 3 HP machines, which are ideal for small organizations. While a 5 HP machine is suitable for a large atta factory, it requires three phase power.
We are only a phone call away. CALL US RIGHT NOW to give your startup a prestigious corporate name.
Confider Industries
Technical Details of Hammer Pulverizer
HAMMER PULVERIZER
MOTOR
(HP)
PHASE
WEIGHT
(KG)
MACHINE SIZE
(INCH)
CHAMBER SIZE
(INCH)
GRINDING CAPACITY
(KG/HR)
2 HP
2
SINGLE
37
27″ X 33″ X 16″
8″ X 4″
15 – 20
3 HP
3
SINGLE
45
27″ X 35″ X 16″
10″ X 4″
25 – 30
5 HP
5
SINGLE
60
32″ X 40″ X 18″
12″ X 5″
40 – 50
Confider Industries
Why Choose Us
Our rigorous approach towards client satisfaction and product quality is at the center of confider industries. Our enriched experience in Food Processing Machineries have shaped us to serve the whole spectrum of clients. The formidable team of professionals at confider industries has made it possible to undertake and deliver machineries and plants irrespective of the size, with extreme precision and measurement. We have established ourselves experts in the industry and we are committed to improve each day without fail.