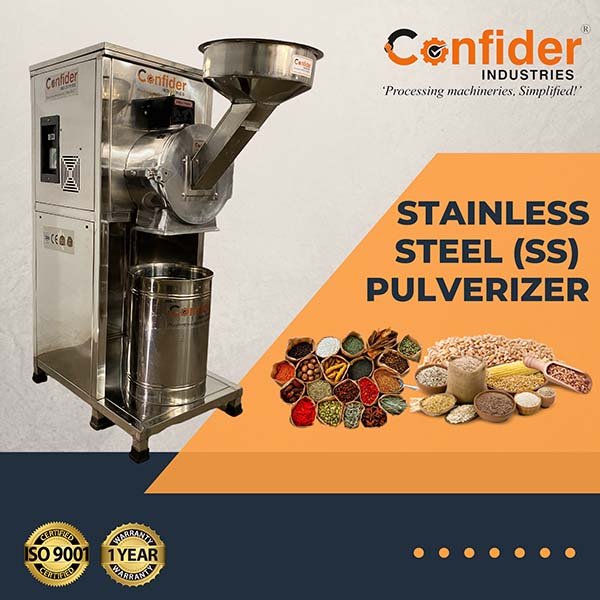 Welcome To The Confider Industries !
Manufacturer and Exporter of Grain and Spice SS Pulverizer – Heavy
This heavy body pulverizer was designed by Confider Industries and falls under the company's stainless steel pulverizers category. This machine can grind a wide variety of ingredients, including grains and spices, using a separate hopper.
This pulverizer is available in 2HP, 3HP, and 5HP models, giving you a wide range of options for meeting your personal or commercial pulverizing requirements.
This pulverizer's attractive appearance and user-friendly design are thanks in large part to the protective casing that encloses its whole body on all sides.
When it comes to parts support, our domestic flourmill customers can rest easy knowing that we'll be there for them even after the transaction is long over.
Confider Industries
Technical Details of Grain and Spice SS Pulverizer – Heavy
GRAIN AND SPICE SS PULVERIZER – HEAVY
MOTOR
(HP)
PHASE
WEIGHT
(KG)
MACHINE SIZE
(INCH)
CHAMBER SIZE
(INCH)
GRINDING CAPACITY
(KG/HR)
2HP
2
SINGLE
46
24″ X 34″ X 12″
10″ X 4″
12 – 15
3HP
3
SINGLE
54
25″ X 38″ X 13″
10″ X 5″
20 – 25
3HP – JUMBO
3
SINGLE
62
25″ X 43″ X 17″
10″ X 6″
25 – 30
5HP
5
THREE
95
27″ X 48″ X 17″
12″ X 7″
30 – 35
Confider Industries
Why Choose Us
Our rigorous approach towards client satisfaction and product quality is at the center of confider industries. Our enriched experience in Food Processing Machineries have shaped us to serve the whole spectrum of clients. The formidable team of professionals at confider industries has made it possible to undertake and deliver machineries and plants irrespective of the size, with extreme precision and measurement. We have established ourselves experts in the industry and we are committed to improve each day without fail.