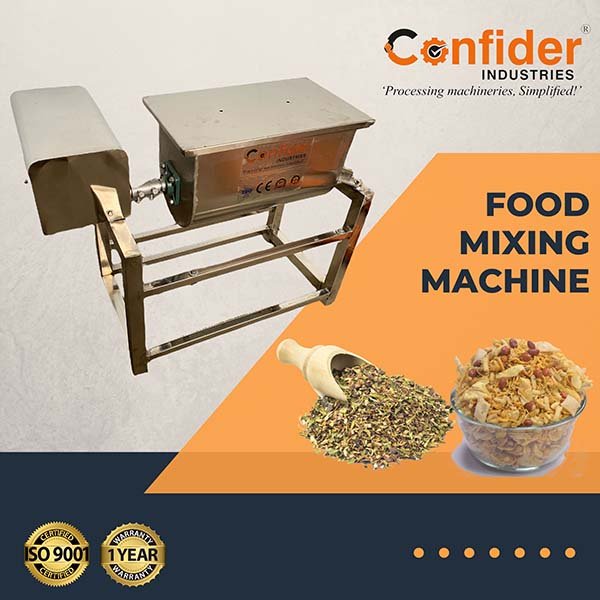 Welcome To The Confider Industries !
Manufacturer and Exporter of Food Mixing Machine
Food, flours, spices, and other similar goods need to be mixed on a daily basis in the kitchen, whether at home or in restaurants and pantries.
This work is made easier and more enjoyable by specially built mixing machines. We have built and delivered a large number of such mixing machines all over the world. Along with our specially developed machines, our standard multifunctional mixing machine serves a vast portion of our customers.
This machine is ideal for practically all mixing tasks before, during and after food preparation. This machine is available in sizes ranging from 1 to 5 feet in length. Depending on the type of material to be mixed, you can mix 2 kg to 80 kg in a single cycle.

Confider Industries
Technical Details of Food Mixing Machine
FOOD MIXING MACHINE
MOTOR
(HP)
PHASE
WEIGHT
(KG)
MACHINE SIZE
(INCH)
MIXING CAPACITY
(KG/HR)
1 FEET
0.5
SINGLE
45
30″ X 16″ X 27″
2 – 4
1.5 FEET
0.75
SINGLE
52
35″ X 19″ X 26″
4 – 8
2 FEET
1
SINGLE
150
49″ X 26″ X 40″
10 – 30
3 FEET
2
SINGLE
200
61″ X 26″ X 40″
15 – 60
5 FEET
3
SINGLE
250
90″ X 26″ X 40″
20 – 80
Confider Industries
Why Choose Us
Our rigorous approach towards client satisfaction and product quality is at the center of confider industries. Our enriched experience in Food Processing Machineries have shaped us to serve the whole spectrum of clients. The formidable team of professionals at confider industries has made it possible to undertake and deliver machineries and plants irrespective of the size, with extreme precision and measurement. We have established ourselves experts in the industry and we are committed to improve each day without fail.