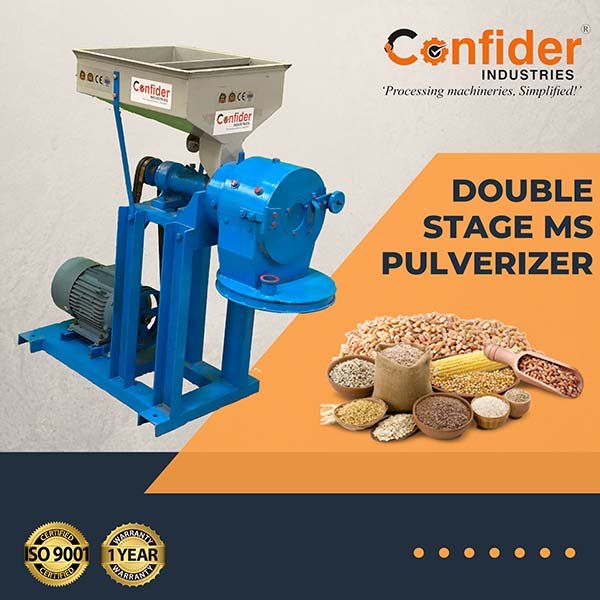 Welcome To The Confider Industries !
Manufacturer and Exporter of Double Stage Open Pulverizer
Our commercial attachakki or business purpose flourmills will put a stop to your quest for a flourmill for your business.
Following are few of the strong reasons.
• Two-stage grinding in a double chamber
• Lightweight stoneless machine with cutter and beater configuration
• If you already own a motor, there is no need to purchase one.
• Heavy machine with minimal vibration
• Capacity of up to 150 kg/hr
• Direct purchase from the manufacturer is less expensive than buy from the local market.
• Spare parts are constantly available, and this machine and parts can be ordered on demand.
• The team is constantly prepared to provide product and process assistance.
What else is required to launch a new business or expand an existing one? Call us right now to begin earning right away
Confider Industries
Technical Details of Double Stage Open Pulverizer
DOUBLE STAGE OPEN PULVERIZER
MOTOR
(HP)
PHASE
WEIGHT
(KG)
MACHINE SIZE
(INCH)
CHAMBER SIZE
(INCH)
GRINDING CAPACITY
(KG/HR)
7.5 HP
7.5
THREE
210
54″ X 52″ X 22″
10″ X 4″/ 12.5″ X 6.5″
70 – 80
10 HP
10
THREE
210
54″ X 52″ X 22″
10″ X 4″/ 12.5″ X 6.5″
100 – 110
15 HP
15
THREE
210
54″ X 52″ X 22″
10″ X 4″/ 12.5″ X 6.5″
125 – 135
Confider Industries
Why Choose Us
Our rigorous approach towards client satisfaction and product quality is at the center of confider industries. Our enriched experience in Food Processing Machineries have shaped us to serve the whole spectrum of clients. The formidable team of professionals at confider industries has made it possible to undertake and deliver machineries and plants irrespective of the size, with extreme precision and measurement. We have established ourselves experts in the industry and we are committed to improve each day without fail.