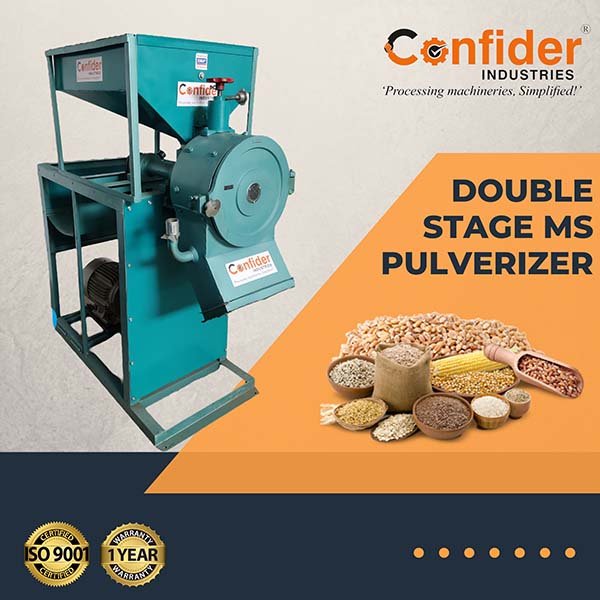 Welcome To The Confider Industries !
Manufacturers and Exporter of Double Stage Closed Pulverizer
Confider Industries' atta chakki pulverizer is the purest form of commercial atta chakki. The cost of a flourmill facility in India is prohibitively expensive. At the moment, this machine is a dependable and cost-effective solution for establishing an atta plant or a wheat mill plant.
This machine's production capacity ranges from 75 kg/hr to 150 kg/hr and can produce up to 1 ton per day.
Grain grinding in a twin chamber produces less hot flour with a high output. This machine's heavy body shape makes it more suitable for commercial use. Customers benefit from a stone-free cutter and beater arrangement since it requires less maintenance than traditional stone-type atta chakki.
We are one of the greatest wheat flour machinery manufacturers in India because of the above-mentioned differentiators of this pulverizer and the uniqueness of all other pulverizers.
Confider Industries
Technical Details of Double Stage Closed Pulverizer
DOUBLE STAGE CLOSED PULVERIZER
MOTOR
(HP)
PHASE
WEIGHT
(KG)
MACHINE SIZE
(INCH)
CHAMBER SIZE
(INCH)
GRINDING CAPACITY
(KG/HR)
7.5 HP
7.5
THREE
135
50″ X 57″ X 22″
12″ X 6″ / 9″ X 3″
70 – 80
Confider Industries
Why Choose Us
Our rigorous approach towards client satisfaction and product quality is at the center of confider industries. Our enriched experience in Food Processing Machineries have shaped us to serve the whole spectrum of clients. The formidable team of professionals at confider industries has made it possible to undertake and deliver machineries and plants irrespective of the size, with extreme precision and measurement. We have established ourselves experts in the industry and we are committed to improve each day without fail.