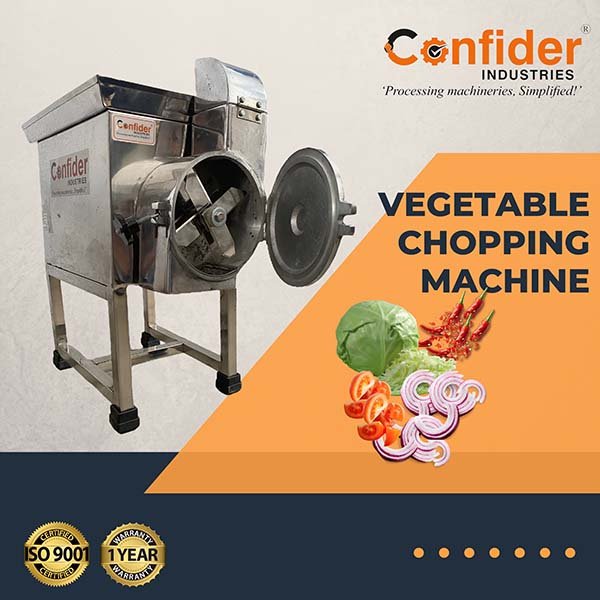 Welcome To The Confider Industries !
Manufacturer and Exporter of Chopping Machine
The chopping of food is a staple in each kitchen. Confider Industries has developed a machine that makes quick work of cutting up fruits and vegetables. Our chopping machines, which come with four different blades, find widespread application in a variety of places, including home kitchens, cloud kitchens, restaurants, and hotels.
Food prep in a home kitchen can be reduced from hours to minutes with this handy appliance, and in most industrial kitchens, it only takes a couple of hours of operation time to complete the day's chopping.
Confider Industries
Technical Details of Chopping Machine
CHOPPING MACHINE
MOTOR
(HP)
PHASE
WEIGHT
(KG)
MACHINE SIZE
(INCH)
SCREEN
CHOPPING CAPACITY
(KG/HR)
1 HP
1HP
SINGLE
32
20″ X 15″ X 21″
4
40
2 HP
2HP
SINGLE
55
23″ X 17″ X 26″
4
80
Confider Industries
Why Choose Us
Our rigorous approach towards client satisfaction and product quality is at the center of confider industries. Our enriched experience in Food Processing Machineries have shaped us to serve the whole spectrum of clients. The formidable team of professionals at confider industries has made it possible to undertake and deliver machineries and plants irrespective of the size, with extreme precision and measurement. We have established ourselves experts in the industry and we are committed to improve each day without fail.